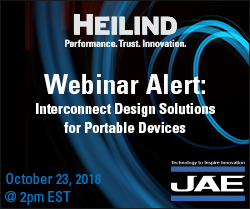 WILMINGTON, Mass. (PRWEB) October 04, 2018
Heilind Electronics, a leading global distributor of electronic components, is teaming up with JAE Electronics this month to present a webinar entitled "Optimized Interconnect Solutions for Design Flexibility in Portable Devices."
JAE experts will discuss the emergence of the USB Type-C connector and cable standard, providing insights for engineers on a variety of related options and design advantages. Specific topics will include levels of desired power, data and video, along with the different connector and cable options available for each application.
The session will also highlight how JAE's compact connector options can assist with design challenges encountered due to the shape of the device housing or varying heights of components mounted on a board. Included in this discussion will be the use of compact FPC connectors as an additional internal interconnect option for external I/O and main board connections.
In addition to providing a platform to discuss design flexibility with product experts, the webinar will benefit design engineers and commodity managers looking to learn more about emerging technologies around portable devices and design options.
This informative webinar is free to attend and will take place on October 23, 2018 at 2 p.m. ET. Interested attendees can register online.
About Heilind Electronics
Heilind Electronics, Inc. (http://www.heilind.com) is one of the world's leading distributors of connectors, relays, sensors, switches, thermal management and circuit protection products, terminal blocks, wire and cable, wiring accessories and insulation and identification products. Founded in 1974, Heilind has locations throughout the U.S., Canada, Mexico, Brazil, Germany, Singapore, Hong Kong and China. Follow Heilind on Facebook at facebook.com/Heilind and on Twitter at twitter.com/Heilind.
Note: USB Type-C is a trademark of USB implementers Forum, Inc.