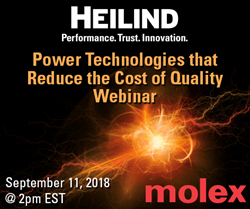 WILMINGTON, Mass. (PRWEB) August 16, 2018
Heilind Electronics, a leading global distributor of electronic components, is teaming up with Molex, a globally recognized provider of electronic solutions, to present a webinar on September 11, 2018 entitled "Power Technologies That Reduce the Cost of Quality."
This informative webinar will feature three Molex technical power experts discussing technologies that apply to power distribution and present solutions to reduce failures and improve reliability in the field. Topics to be discussed include choosing fully protected header terminals, assuring ease of mating/preventing pin-to-socket damage and reviewing solutions using laminated busbar applications. Features and benefits of the Molex FiT Families power connectors, Coeur CST high-current interconnect system and Triton custom bus bars will also be discussed.
Design engineers in the industrial, transportation, data center and alternative energy markets will benefit from attending and engaging with Molex product specialists in this presentation.
The webinar will take place on September 11, 2018 at 2 p.m. EST. Attendees can register online.
About Heilind Electronics
Heilind Electronics, Inc. (http://www.heilind.com) is one of the world's leading distributors of connectors, relays, sensors, switches, thermal management and circuit protection products, terminal blocks, wire and cable, wiring accessories and insulation and identification products. Founded in 1974, Heilind has locations throughout the U.S., Canada, Mexico, Brazil, Germany, Singapore, Hong Kong and China. Follow Heilind on Twitter at twitter.com/Heilind.
About Molex:
Molex brings together innovation and technology to deliver electronic solutions to customers worldwide. With a presence in more than 40 countries, Molex offers a full suite of solutions and services for many markets, including data communications, consumer electronics, industrial, automotive, commercial vehicle and medical. For more information visit http://www.molex.com.