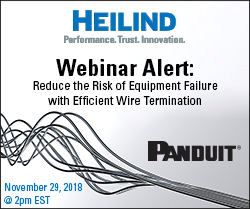 WILMINGTON, Mass. (PRWEB) November 12, 2018
Heilind Electronics, a leading global distributor of electronic components, is teaming up with Panduit, a provider of leading-edge physical, electrical and network infrastructure solutions, to present a webinar later this month. Hosted by Tech Briefs Media, the webinar will focus on methods to reduce the risk of equipment failure by designing and installing efficient wire termination solutions.
During the session, experts will review best practices in properly crimping and installing wire connections while sharing valuable insights on achieving quality performance and reliability. As a result, attendees will be able to make more informed product selections and confirm proper installation of their terminations. Ultimately, this will ensure that their end products meet industry standards while remaining fully functional in their applications.
The presentation will give design and electrical engineers in the network and electrical infrastructure space an opportunity to engage with product specialists in their fields.
The webinar is free to attend and will take place on November 29th, 2018 at 2 p.m. ET. Interested attendees can register online.
About Heilind Electronics
Heilind Electronics, Inc. (http://www.heilind.com) is one of the world's leading distributors of connectors, relays, sensors, switches, thermal management and circuit protection products, terminal blocks, wire and cable, wiring accessories and insulation and identification products. Founded in 1974, Heilind has locations throughout the U.S., Canada, Mexico, Brazil, Germany, Singapore, Hong Kong and China. Follow Heilind on Facebook and Twitter.
About Panduit
Panduit is a world-class developer and provider of leading-edge solutions that connect, manage and automate physical infrastructure equipment that support power, communications, computing, control and security systems. Headquartered in Tinley Park, IL, USA and operating in 112 global locations, Panduit's proven reputation for quality and technology leadership, coupled with a robust partner ecosystem, help support, sustain and empower business growth in a connected world. For more information, visit http://www.panduit.com