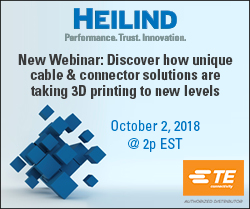 WILMINGTON, Mass. (PRWEB) September 12, 2018
Heilind Electronics, a leading global distributor of electronic components, is teaming up with TE Connectivity (TE), a global leader in connectivity and sensors, to present a webinar on October 2, 2018 entitled "Discover How Unique Cable & Connector Solutions Are Taking 3D Printing to New Levels."
In today's fast-paced, quick development cycle marketplaces, 3D printing and additive manufacturing deliver a solution where ideas and concepts are brought to life in minutes instead of months. In this informative webinar, TE Connectivity's Global Product Manager for Data and Devices will discuss how Heilind Electronics and TE Connectivity's cable and connector systems help enable 3D printing, as we dive into product based solutions that bring 3D printer designs to life.
One of the key focuses of the webinar will be the design challenges associated with this growing trend and how discrete wire solutions can help. Additionally, experts will review unique cable routing solutions as well as new, innovative products that can provide space savings and optimize product design.
Design engineers in the communications, computers, consumer product manufacturing, electronics, industrial and information technology & data center markets will benefit from attending and engaging with product specialists in this presentation.
The webinar is free to attend and will take place on October 2, 2018 at 2 p.m. ET. Interested attendees can register online.
About Heilind Electronics
Heilind Electronics, Inc. (http://www.heilind.com) is one of the world's leading distributors of connectors, relays, sensors, switches, thermal management and circuit protection products, terminal blocks, wire and cable, wiring accessories and insulation and identification products. Founded in 1974, Heilind has locations throughout the U.S., Canada, Mexico, Brazil, Germany, Singapore, Hong Kong and China. Follow Heilind on Facebook at facebook.com/Heilind and on Twitter at twitter.com/Heilind.
About TE Connectivity
TE Connectivity Ltd. is a $13 billion global technology and manufacturing leader creating a safer, sustainable, productive and connected future. For more than 75 years, TE's connectivity and sensor solutions, proven in the harshest environments, have enabled advancements in transportation, industrial applications, medical technology, energy, data communications and the home. With 78,000 employees, including more than 7,000 engineers working alongside customers in nearly 150 countries, TE ensures that EVERY CONNECTION COUNTS. Learn more at http://www.te.com and on LinkedIn, Facebook, WeChat and Twitter.
TE Connectivity, TE, TE connectivity (logo) and EVERY CONNECTION COUNTS are trademarks of the TE Connectivity Ltd. family of companies.