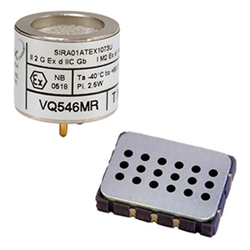 WILMINGTON, Mass. (PRWEB) December 05, 2019
Heilind Electronics, a premier distributor of electronic components worldwide, has partnered with SGX Sensortech to bring its customers a greater selection of air quality sensors and related solutions. SGX is the latest addition to Heilind's Amphenol sensor franchise, which includes Amphenol Advanced Sensors, All Sensors, Piher, SSI Technologies and Wilcoxon.
As an authorized distributor for SGX, Heilind is now offering a variety of air quality sensors, gas sensors and evaluation boards designed for industrial safety and air quality monitoring. These products measure over 60 target gases and are equipped with technologies like catalytic beads, electromechanical and infrared capabilities, MEMs pellistors, metal oxide semiconductors and thermal conductivity.
Included in Heilind's stock of SGX products are multi-function natural gas modules. These devices feature SGX-patented MEMs pellistor sensors that allow for low-power operation on standard AA batteries. The modules utilize LEDs and audible alarms that not only serve as alerts, but also transmit data during potential gas leakages. Heilind is also offering custom configurations for many of its SGX sensor solutions.
"We are pleased to add SGX to our rapidly growing Amphenol sensor portfolio," said Alan Clapp, Vice President, Heilind Electronics. "With over 50 years of experience in the air quality sensor market, SGX provides our customers with the innovation, safety and reliability they need for their applications."
SGX products are used in numerous applications, including oil and gas, utilities, petrochemical facilities, forensic science, steelworks, commercial buildings, automotive systems, mining and consumer electronics.
Visit Heilind's website for more information on Amphenol SGX Sensortech solutions.
About Heilind Electronics
Heilind Electronics, Inc. (http://www.heilind.com) is one of the world's leading distributors of connectors, relays, sensors, switches, thermal management and circuit protection products, terminal blocks, wire and cable, wiring accessories and insulation and identification products. Founded in 1974, Heilind has locations throughout the U.S., Canada, Mexico, Brazil, Germany, Singapore, Hong Kong and China. Follow Heilind on Facebook at facebook.com/Heilind and on Twitter at twitter.com/Heilind.
About SGX Sensortech
SGX Sensortech is a leader in the air quality sensor market, with innovative solutions that offer high performance, robustness and cost-effectiveness. SGX's wide range of gas sensors utilize catalytic, infrared, metal oxide, electrochemical and other advanced technologies. The company also provides flammable and toxic gas solutions for automotive and industrial air quality applications.