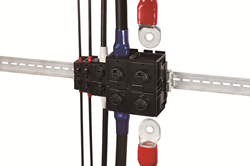 WILMINGTON, Mass. (PRWEB) February 18, 2020
Heilind Electronics, a leading international distributor of electronic components and an authorized distributor for Hirose, is now stocking the manufacturer's ZERO SCREW EF2 Series terminal blocks.
The spring-loaded terminal blocks allow cables to be connected to electrical equipment without the use of screws. The unique single-action connection design simply requires pushing a ring terminal into the connector. Not only does this save costly installation work and maintenance, but it also prevents accidental fires triggered by the loosening of screws in electrical power applications.
ZERO SCREW terminal blocks are well-suited for a wide range of hard-to-access applications, including rail, power distribution, machine tools, semiconductor manufacturing equipment and energy storage systems.
Visit Heilind's website for more information about Hirose ZERO SCREW Terminal Blocks.
About Heilind Electronics
Heilind Electronics, Inc. (http://www.heilind.com) is one of the world's leading distributors of connectors, relays, sensors, switches, thermal management and circuit protection products, terminal blocks, wire and cable, wiring accessories and insulation and identification products. Founded in 1974, Heilind has locations throughout the U.S., Canada, Mexico, Brazil, Germany, Singapore, Hong Kong and China. Follow Heilind on Facebook at facebook.com/Heilind and on Twitter at twitter.com/Heilind.
About Hirose
One of the world's largest interconnect manufacturers, Hirose offers a wide variety of high-performance connectors. Hirose's products include RF, coaxial, board-to-board, wire-to-board and industrial power connectors for use in computers, peripheral equipment, terminal equipment, wired and wireless communications, office automation and many other applications.