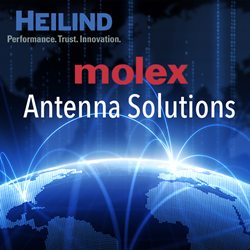 WILMINGTON, Mass. (PRWEB) June 27, 2019
Heilind Electronics, a leading global distributor of electronic components and authorized distributor for Molex products, has expanded its portfolio of wireless solutions with new ready-to-use antennas. The antennas are designed for a wide range of applications, including IoT (Internet of Things), automotive, industrial and medical.
The growing development of machine-to-machine, IoT and consumer wearable technologies has placed new requirements on antenna design and performance with space, cost and speed of integration as key components of advanced wireless manufacturing. Molex's antenna solutions meet the growing demand for dual-band, multi-band, ultra-wide band, GPS and cellular antennas with combo capabilities that reduce engineering support at component level design. In addition, custom antenna solutions can be applied in multiple form factors including PCB, FPC, stamped metal and selective metallized plastic. Whatever the requirement (off the shelf or custom), Heilind works closely with Molex not only to provide antennas, but also to help designers apply essential RF antenna best practices to ensure that antenna performance is maximized.
Molex's expanding array of antenna products addresses present connectivity requirements with anticipated support for revolutionary communications of the future. View Heilind's selection of Molex antenna products.
About Heilind Electronics
Heilind Electronics, Inc. (http://www.heilind.com) is one of the world's leading distributors of connectors, antennas, relays, sensors, switches, thermal management and circuit protection products, terminal blocks, wire and cable, wiring accessories and insulation and identification products. Founded in 1974, Heilind has locations throughout the U.S., Canada, Mexico, Brazil, Germany, Singapore, Hong Kong and China. Follow Heilind on Facebook at facebook.com/Heilind and on Twitter at twitter.com/Heilind.
About Molex
Molex brings together innovation and technology to deliver electronic solutions to customers worldwide. With a presence in more than 40 countries, Molex offers a full suite of solutions and services for many markets, including data communications, consumer electronics, industrial, automotive, commercial vehicle and medical. For more information, please visit http://www.molex.com.