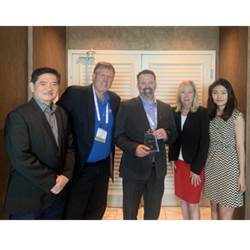 WILMINGTON, Mass. (PRWEB) June 04, 2019
Heilind Electronics, a premier distributor of electronic components worldwide, was honored earlier this month with the Distributor of the Year award by American Bright Optoelectronics Corp. – one of the world's foremost researchers and suppliers of LED technology. The award was presented to Heilind executives by American Bright president George Lee at the company's annual EDS reception in Las Vegas, Nevada.
"I am delighted to accept this award on behalf of our entire Heilind team," said Alan Clapp, Vice President of Supplier Business, Heilind Electronics. "Through our partnership with American Bright, we have been able to offer our customers a wide range of industry-leading LED lighting products. As we grow our alliance, we will continue to provide the most innovative technology, accompanied by our other core values: quality, supply chain integrity and superior customer service."
Jani Duffy, American Bright National Sales and Marketing Director, shared the sentiment. "We congratulate Heilind on this achievement," said Duffy. "The entire Heilind organization plays a key role in contributing to our overall success and growth into new markets."
The American Bright award is one of several distinctions Heilind Electronics received at EDS – including being named the #1 electronics distributor by Bishop & Associates. Heilind offers American Bright LED solutions for a variety of industries, including automotive technology, industrial automation, robotics, aerospace and general lighting. The company's portfolio includes AC LED modules and other next-generation lighting solutions.
About Heilind Electronics
Heilind Electronics, Inc. (http://www.heilind.com/) is one of the world's leading distributors of connectors, relays, sensors, switches, thermal management and circuit protection products, terminal blocks, wire and cable, wiring accessories and insulation and identification products. Founded in 1974, Heilind has locations throughout the U.S., Canada, Mexico, Brazil, Germany, Singapore, Hong Kong and China. Follow Heilind on Facebook at facebook.com/Heilind and on Twitter at twitter.com/Heilind.
About American Bright Optoelectronics Corporation
American Bright Optoelectronics Corporation is a leading manufacturer in LED solutions with over 24 years of experience in global research, engineering, manufacturing and innovative product development. The company offers one of the industry's largest selections of AC LED modules and systems; flexible light strips and rope lights; infrared (IR) products; custom assemblies; E-Paper; SMT chips; PLCC; LED lamps; and unique LEDs, including the EzyLED™ and addressable RGB devices.