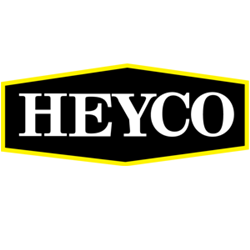 WILMINGTON, Mass. (PRWEB) January 22, 2020
Heilind Electronics, a premier distributor of electronic components worldwide, was recently honored with the Distributor of the Year award by Heyco, a leading manufacturer of molded wire protection products and stamped electrical components. The award, presented to Heilind at the company's annual Distributor Council meeting in Florida, was based on exceptional overall growth in distribution.
A combination of performance factors contributed to Heilind's receipt of this award -- including dollar growth, percentage growth, lead follow-up and corporate and branch support.
"I am delighted to accept this award on behalf of our Heilind team," said Alan Clapp, Vice President of Supplier Business, Heilind Electronics. "Through our partnership with Heyco, we have been able to offer our customers a wide range of cutting-edge wire and cable accessories. We look forward to growing our alliance further."
Heyco National Sales Director, Larry Kucera, echoed the sentiment. "Heyco is pleased to present Heilind Electronics with our Distributor of the Year award," said Kucera. "Heilind achieved double digit growth in a challenging year with outstanding support at the corporate and branch levels. Great job!"
The award is one of several distinctions Heilind Electronics has received over the past year – including being named the #1 electronics distributor by Bishop & Associates. Heilind offers Heyco solutions for a variety of industries, including industrial, medical, appliance, transportation, alternative energy, lighting and aerospace.
For more information on Heilind Electronics, visit: http://www.heilind.com.
About Heilind Electronics
Heilind Electronics, Inc. (http://www.heilind.com) is one of the world's leading distributors of connectors, relays, sensors, switches, thermal management and circuit protection products, terminal blocks, wire and cable, wiring accessories and insulation and identification products. Founded in 1974, Heilind has locations throughout the U.S., Canada, Mexico, Brazil, Germany, Singapore, Hong Kong and China. Follow Heilind on Facebook at facebook.com/Heilind and on Twitter at twitter.com/Heilind.
About Heyco
Founded in 1926, Heyco Products designs and manufactures molded wire protection products, plastic fasteners, molded components and stamped electrical components to meet the needs of industrial, medical, appliance, transportation, alternative energy, lighting and aerospace companies. Heyco also brings with it a modern, globally certified, U.S.-based manufacturing facility with vast expertise in injection molding, progressive stamping, overmolding and assembly processes and techniques.