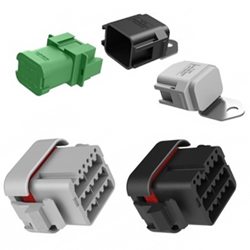 WILMINGTON, Mass. (PRWEB) October 24, 2019
Heilind Electronics, a leading global distributor of electronic components and authorized distributor for Amphenol Sine Systems, introduces their new AT and ATV Series HYPERBUSS receptacle connectors. The HYPERBUSS family of receptacle connectors is used in a variety of interconnect applications requiring a common "bussed" electrical pathway.
The buss mechanism utilizes conductors to collect electrical power from incoming feeders, then distributes them to outgoing feeders.
The AT Series is available in 2, 4, 6, 8 and 12 position receptacles, while the ATV Series is available in keyed 18 position layouts. Each connector type uses a rectangular, thermoplastic housing and is intermateable with respective industry standard connectors. Other features include a wedgelock for contact alignment and retention, as well as an integrated latch for mating. Both options are IP67-rated in mated condition, offering superior environmental sealing capability.
Amphenol Sine Systems AT and ATV Series HYPERBUSS receptacles are designed for a wide variety of industries, including transportation, marine, diagnostic, military, alternative energy and agriculture.
Visit Heilind's website for more information about the Amphenol Sine System's AT Series and ATV Series.
About Heilind Electronics
Heilind Electronics, Inc. (http://www.heilind.com) is one of the world's leading distributors of connectors, relays, sensors, switches, thermal management and circuit protection products, terminal blocks, wire and cable, wiring accessories and insulation and identification products. Founded in 1974, Heilind has locations throughout the U.S., Canada, Mexico, Brazil, Germany, Singapore, Hong Kong and China. Follow Heilind on Facebook at facebook.com/Heilind and on Twitter at twitter.com/Heilind.
About Amphenol Sine Systems
Amphenol Sine Systems designs, manufacturers and supplies high-performance industrial interconnect systems, including environmental and heavy-duty connectors. These products are used in factory automation, motion control, heavy equipment, alternative energy, rail mass transportation and many other industries.