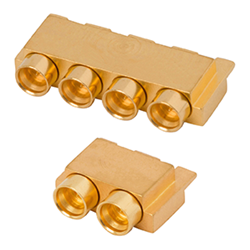 WILMINGTON, Mass. (PRWEB) November 21, 2019
Heilind Electronics, a leading global distributor of electronic components and authorized distributor for Amphenol SV Microwave, recently introduced the manufacturer's 2- and 4-port SMPS edge launch connectors. These products enable the transmission of extremely high frequencies (DC up to 100 GHz) while maintaining the smallest form factor. The connectors are 45% smaller than SMP and 30% smaller than SMPM versions.
Amphenol SV Microwave's SMPS edge launch multiport connectors are directly compatible with the G3PO interface and feature full detent, limited detent (SMP only) and smooth bore options. SV Microwave's current SMPS configurations include male and female cable connectors, as well as board mount, edge launch and female bullet designs. The male interface is available in smooth bore for easy mating and demating and full detent for a more robust retention.
The connectors are used for applications where density and frequency are of the utmost importance -- including RF test and measurement, rapid prototyping, high-speed digital component testing, and military and aerospace.
Visit Heilind's website for more information about Amphenol SV Microwave's 2- and 4-port SMPS connectors.
About Heilind Electronics
Heilind Electronics, Inc. (http://www.heilind.com) is one of the world's leading distributors of connectors, relays, sensors, switches, thermal management and circuit protection products, terminal blocks, wire and cable, wiring accessories and insulation and identification products. Founded in 1974, Heilind has locations throughout the U.S., Canada, Mexico, Brazil, Germany, Singapore, Hong Kong and China. Follow Heilind on Facebook at facebook.com/Heilind and on Twitter at twitter.com/Heilind.
About Amphenol SV Microwave
Amphenol SV Microwave is a world leader in the RF/Microwave industry with over 50 years of proven performance. SV Microwave designs and manufactures RF/Microwave coaxial connectors, cable assemblies, adapters and passive components for the military, aerospace, satellite, high-speed digital, commercial and telecommunications markets.