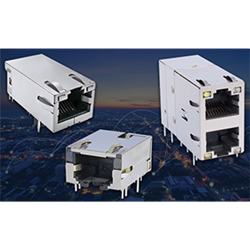 WILMINGTON, Mass. (PRWEB) September 23, 2020
Heilind Electronics, a leading global distributor of electronic components and authorized distributor for Bel Magnetic Solutions, has expanded its selection of MagJack Integrated Connector Modules (ICMs) with the manufacturer's Marvell-compatible solution.
The new module is designed for customers using the latest Marvell 10GBASE-T Ethernet PHYs, including the 88E2xxx and 88E3xxx series silicon. It offers a performance upgrade to achieve maximum speed over twisted pair copper cables -- up to ten times that of standard Gigabit Ethernet technology. The module is also backward-compatible with existing Ethernet networks, allowing for drop-in replacements of 1GBASE-T products with no PCB changes required.
The Marvell-compatible MagJack meets today's need for higher bandwidth and faster data rates. It is ideal for use in next-generation 5G cellular applications, 5G small cell radio devices, high-speed PCIe network interface cards, low-density/non-PoE 10GBASE-T Ethernet switches, high-end servers, storage area networks and cloud computing.
Visit Heilind's website for more information about Bel Magnetic Solutions Marvell-compatible MagJack ICMs.
About Heilind Electronics
Heilind Electronics, Inc. (http://www.heilind.com) is one of the world's leading distributors of connectors, antennas, relays, sensors, switches, thermal management and circuit protection products, terminal blocks, wire and cable, wiring accessories and insulation and identification products. Founded in 1974, Heilind has locations throughout the U.S., Canada, Mexico, Brazil, Germany, Singapore, Hong Kong and China. Follow Heilind on Facebook at facebook.com/Heilind and on Twitter at twitter.com/Heilind.
About Bel
Bel designs and manufactures a broad array of products that power, protect and connect electronic circuits around the world. Bel's product groups include magnetic solutions, power solutions and protection and connectivity solutions. These items are used primarily in the networking, telecommunications, computing, military, aerospace, transportation and broadcasting industries.