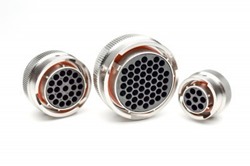 WILMINGTON, Mass. (PRWEB) December 01, 2020
Heilind Electronics, a leading global distributor of electronic components, has added Amphenol Sine Systems' ecomate® RSSM (Rugged Superior Seal Metal) series connectors to its selection of heavy-duty interconnects.
The circular, metal connectors provide a rugged, sealed connection for factory automation, industrial heavy equipment, transportation and harsh indoor or outdoor applications. Additionally, they are IP69K-rated in the mated condition and offer UV and corrosion resistance.
Modeled after MIL-DTL-26482 connectors, the ecomate® RSSM features a robust zinc-alloy body and a nickel-aluminum bayonet coupling system for a secure connection. This durable connector supports ratings of up to 45A and 600V for standard contacts and up to 300A and 630V for RADSOK® contacts.
The ecomate® RSSM also offers a great deal of flexibility: It is available in 8 shell sizes with a choice of machined, stamped and formed, RADSOK® or PCB contacts in 32 insert arrangements.
Visit Heilind's website for more information about Amphenol Sine Systems' ecomate® RSSM metal circular connectors.
About Heilind Electronics
Heilind Electronics, Inc. (http://www.heilind.com) is one of the world's leading distributors of connectors, relays, sensors, switches, thermal management and circuit protection products, terminal blocks, wire and cable, wiring accessories and insulation and identification products. Founded in 1974, Heilind has locations throughout the U.S., Canada, Mexico, Brazil, Germany, Singapore, Hong Kong and China. Follow Heilind on Facebook at facebook.com/Heilind and on Twitter at twitter.com/Heilind.
About Amphenol Sine Systems
Amphenol Sine Systems designs, manufacturers and supplies high-performance industrial interconnect systems, including environmental and heavy-duty connectors. These products are used in factory automation, motion control, heavy equipment, alternative energy, rail mass transportation and many other industries.