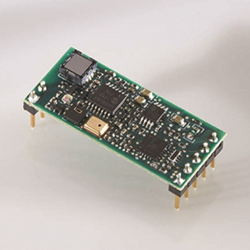 WILMINGTON, Mass. (PRWEB) October 08, 2018
Heilind Electronics, a leading global distributor of electronic components and authorized distributor for TE Connectivity (TE), a global leader in connectivity and sensors, introduces TE's AmbiMate sensor module (SM) MS4 series. TE's AmbiMate SM provides an application-specific set of sensors on a single printed circuit board (PCB) assembly for easy integration into a host product, freeing design resources and accelerating time to market.
This pre-engineered, compact and cost-effective module features a core set of four sensors that perform functions like the detection of motion and the measurement of light level, temperature and humidity -- with options for sensing VOCs (volatile organic compounds), CO2 and sound. All MS4 series sensor module parts offer the flexibility of sharing a common seven-position connection that allows designers to lay out a single PCB footprint accommodating all the available sensor configurations at production.
TE's AmbiMate sensor modules report data via I2C (Inter-Integrated Circuit) and an event pin to indicate motion or sound detection, enabling devices to report environmental data from the sensor module and make decisions based on the input. The modules are pin compatible, allowing designers the ability to add or remove sensors as needed, and are easily attached to the host board via a number of attachment options -- with the smallest option being 29.46 mm x 16 mm. MS4 series modules operate from a 3.3 V supply and the design is optimized for maximum battery life.
The variety of sensors and small package size make the AmbiMate SM suitable for multiple indoor applications, including indoor lighting, thermostat and HVAC inputs and building automation networks.
Visit Heilind's website for more information about TE Connectivity's AmbiMate Sensor Module Series.
About Heilind Electronics
Heilind Electronics, Inc. (http://www.heilind.com) is one of the world's leading distributors of connectors, relays, sensors, switches, thermal management and circuit protection products, terminal blocks, wire and cable, wiring accessories and insulation and identification products. Founded in 1974, Heilind has locations throughout the U.S., Canada, Mexico, Brazil, Germany, Singapore, Hong Kong and China. Follow Heilind on Facebook at facebook.com/Heilind and on Twitter at twitter.com/Heilind.
About TE Connectivity
TE Connectivity Ltd. is a $13 billion global technology and manufacturing leader creating a safer, sustainable, productive and connected future. For more than 75 years, TE's connectivity and sensor solutions, proven in the harshest environments, have enabled advancements in transportation, industrial applications, medical technology, energy, data communications and the home. With 78,000 employees, including more than 7,000 engineers, working alongside customers in nearly 150 countries, TE ensures that EVERY CONNECTION COUNTS. Learn more at http://www.te.com and on LinkedIn, Facebook, WeChat and Twitter.
AmbiMate, TE Connectivity, TE connectivity (logo) and EVERY CONNECTION COUNTS are trademarks.