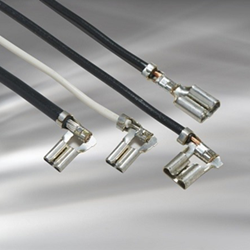 WILMINGTON, Mass. (PRWEB) February 26, 2019
Heilind Electronics, a leading global distributor of electronic components and authorized distributor for TE Connectivity (TE), a global leader in connectivity and sensors, introduces TE's new standard line of FASTON terminals. This innovative line includes high-temperature, nickel-plated steel receptacles, as well as tin-plated brass receptacles available with new 2D crimp technology.
The standard line of FASTON receptacle terminals is easily identifiable by the "dogbone" shaped front end of the receptacle, which allows the mating tab to connect on a rolled edge rather than a sheared edge for reduced insertion force. The tin-plated brass terminals feature a UL rating of 125 degrees Celsius, while the high-temperature, nickel-plated steel terminals feature a UL rating of 250 degrees Celsius. Both types are available in straight or flag configurations with various crimp barrels.
FASTON terminals equipped with 2D crimp technology allow customers to use just one terminal in place of three or four units. This enables the coverage of a full range of wire sizes, as well as the replacement of hundreds of other receptacles – ultimately resulting in better productivity, reduced design complexity and better inventory management. Additionally, these new terminals easily accommodate different wire sizes through a simple adjustment of the applicator crimp height; this increases throughput and decreases downtime while reducing changeovers. The 2D Standard FASTON receptacles are backward compatible with existing housings designed for F-crimp FASTON receptacles.
In addition to being an industry leader in the appliance and automotive industries, TE's FASTON products provide solutions for HVAC, lighting, intelligent buildings and industrial machinery.
Visit Heilind's website for more information about TE Connectivity's Standard FASTON Receptacle Terminals.
About Heilind Electronics
Heilind Electronics, Inc. (http://www.heilind.com) is one of the world's leading distributors of connectors, relays, sensors, switches, thermal management and circuit protection products, terminal blocks, wire and cable, wiring accessories and insulation and identification products. Founded in 1974, Heilind has locations throughout the U.S., Canada, Mexico, Brazil, Germany, Singapore, Hong Kong and China. Follow Heilind on Facebook at facebook.com/Heilind and on Twitter at twitter.com/Heilind.
About TE Connectivity
TE Connectivity Ltd. is a $14 billion global technology and manufacturing leader creating a safer, sustainable, productive and connected future. For more than 75 years, TE's connectivity and sensor solutions, proven in the harshest environments, have enabled advancements in transportation, industrial applications, medical technology, energy, data communications and the home. With 80,000 employees, including more than 8,000 engineers working alongside customers in approximately 140 countries, TE ensures that EVERY CONNECTION COUNTS. Learn more at http://www.te.com and on LinkedIn, Facebook, WeChat and Twitter.
TE Connectivity, TE, TE connectivity (logo), FASTON and EVERY CONNECTION COUNTS are trademarks of the TE Connectivity Ltd. family of companies.