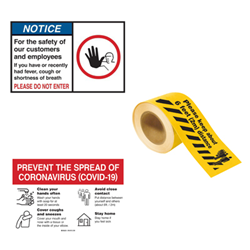 WILMINGTON, Del. (PRWEB) April 30, 2020
Heilind Electronics, an authorized distributor for Brady and a leading global distributor of electronic components and identification products, has added the manufacturer's COVID-19-related identification and safety solutions signage, posters and floor markings. This offering comes at a critical juncture in the global pandemic, as more businesses strive to maximize the safety of their employees, customers and visitors through public signage.
Brady's line of pre-printed COVID-19 safety signs and signage solutions serve as key reminders of what to do to help stop the spread of the virus. For example, the solutions contain messaging to inform visitors in the reception area of company guidelines; reiterate how to best disinfect hands; remind coworkers to wear proper personal protective equipment (PPE); and communicate general safety precautions like maintaining social distancing and avoiding hand shaking.
Visit Heilind's website for more information about Brady's COVID-19 safety signage solutions.
About Heilind Electronics
Heilind Electronics, Inc. (http://www.heilind.com) is one of the world's leading distributors of connectors, relays, sensors, switches, thermal management and circuit protection products, terminal blocks, wire and cable, wiring accessories, and insulation and identification products. Founded in 1974, Heilind has locations throughout the U.S., Canada, Mexico, Brazil, Germany, Singapore, Hong Kong and China. Follow Heilind on Facebook at facebook.com/Heilind and on Twitter at twitter.com/Heilind.
About Brady Corporation
Brady Corporation is an international manufacturer of high-performance labels, signs, safety devices, printing systems and software. Founded in 1914, the company has a diverse customer base in electronics, telecommunications, manufacturing, electrical systems, construction, medicine, aerospace and a variety of other industries. For more information, visit http://www.bradyid.com.