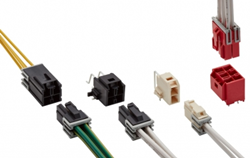 WILMINGTON, Mass. (PRWEB) January 15, 2020
Heilind Electronics, a leading global distributor of electronic components and authorized distributor for Molex, is now stocking the Molex CP-6.5 wire-to-board and wire-to-wire connector solution. Leveraging full keying and color-pairing features, CP-6.5 connectors and harnesses enhance user safety while accelerating consumer and industrial interconnect assembly applications.
In today's wire-to-board and wire-to-wire applications, product developers need fool-proof interconnect systems that provide quick, easy identification of mated pairs. Molex's 6.50 millimeter wire-to-board and wire-to-wire receptacles and PCB headers have color-coded housings to differentiate mating possibilities. Each housing color has unique keying to prevent entry of the receptacle into the header when mismated.
The CP-6.5 connectors are available in a two-, four- or six-circuit configuration and can accommodate wire sizes between 16 and 26 AWG. They are also glow wire compliant.
These connectors are an excellent choice for the consumer, industrial, medical and industrial automation markets.
Visit Heilind's website for more information about the Molex CP-6.5 Wire-to-Board and Wire-to-Wire Connector System.
About Heilind
Heilind Electronics, Inc. (http://www.heilind.com) is one of the world's leading distributors of connectors, relays, sensors, switches, thermal management and circuit protection products, terminal blocks, wire and cable, wiring accessories and insulation and identification products. Founded in 1974, Heilind has locations throughout the U.S., Canada, Mexico, Brazil, Germany, Singapore, Hong Kong and China. Follow Heilind on Facebook at facebook.com/Heilind and on Twitter at twitter.com/Heilind.
About Molex
Molex (http://www.molex.com) brings together innovation and technology to deliver electronic solutions to customers worldwide. With a presence in more than 40 countries, Molex offers a full suite of solutions and services for many markets, including data communications, consumer electronics, industrial, automotive, and medical.