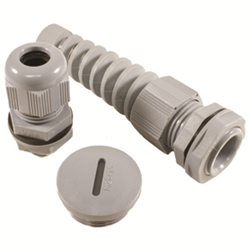 WILMINGTON, Mass. (PRWEB) August 27, 2018
Heilind Electronics, a leading global distributor of electronic components and authorized distributor for Alpha Wire, is now stocking the manufacturer's cable glands – an effective solution for premium cable strain relief, and the latest addition to Alpha Wire's FIT Wire Management family of products.
In addition to providing high quality strain relief, Alpha Wire's cable glands feature IP68-level sealing against environmental factors such as flames, dust, sand and water. The products also come equipped with chloroprene rubber seals and are safe for use in temperatures ranging up to 150 degrees Celsius. This makes them ideal for applications in renewable energy, industrial automation and many other industries.
Alpha Wire's portfolio of sealing products includes easy-to-install cable glands available in standard dome and flexible spiral designs, as well as sealing hole plugs. All glands are packaged with an accompanying locknut and gasket and are available in NPT, metric and PG tread sizes.
Visit Heilind's website for more information about Alpha Wire's Cable Glands.
About Heilind Electronics
Heilind Electronics, Inc. (http://www.heilind.com) is one of the world's leading distributors of connectors, relays, sensors, switches, thermal management and circuit protection products, terminal blocks, wire and cable, wiring accessories and insulation and identification products. Founded in 1974, Heilind has locations throughout the U.S., Canada, Mexico, Brazil, Germany, Singapore, Hong Kong and China. Follow Heilind on Facebook at facebook.com/Heilind and on Twitter at twitter.com/Heilind.