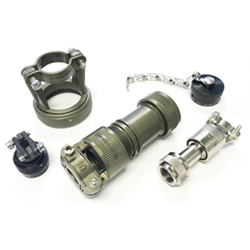 WILMINGTON, Mass. (PRWEB) June 06, 2019
Heilind Electronics, an authorized distributor for Amphenol Pcd and a premier distributor of electronic components worldwide, is now stocking the manufacturer's circular connector backshells and dust caps. These products are compatible with a variety of MIL-SPEC connector series, including MIL-DTL-5015, MIL-DTL-26482, MIL-DTL-38999 and MIL-DTL-83723.
Amphenol Pcd's backshells provide strain relief, environmental protection and EMI/RFI shielding at the termination area of virtually any connector. These backshells are available in both military (MIL) specifications and commercial types for most any application and meet the SAE AS85049 standard. With a base material of aluminum alloy, stainless steel, brass or composite - along with a variety of finishes - most of Amphenol Pcd's backshells meet or exceed RoHS and REACH compliant standards.
Adding to the backshells' versatility are their various configuration options. Offered in straight, 90-degree and 45-degree profiles, these products accommodate most of the cable routing required in today's interconnect market.
Amphenol Pcd's dust caps are QPL-approved and feature a variety of attachment styles. Available for circular connectors in both threaded and bayonet versions, the covers protect the mating surfaces of the connectors from environmental contaminants, moisture, mechanical damage and EMI interference.
Because of their rugged construction and versatility, Amphenol Pcd's backshells and dust caps are widely used in the military-aerospace and industrial markets. Applications include shipbuilding, commercial aircraft, military airframe, avionics, missile defense, military ground vehicles, lighting and instrumentation.
Visit Heilind's website for more information about Amphenol Pcd's connector backshells and dust caps.
About Heilind Electronics
Heilind Electronics, Inc. (http://www.heilind.com) is one of the world's leading distributors of connectors, relays, sensors, switches, thermal management and circuit protection products, terminal blocks, wire and cable, wiring accessories and insulation and identification products. Founded in 1974, Heilind has locations throughout the U.S., Canada, Mexico, Brazil, Germany, Singapore, Hong Kong and China. Follow Heilind on Facebook at facebook.com/Heilind and on Twitter at twitter.com/Heilind.
About Amphenol Pcd
Amphenol Pcd, a subsidiary of Amphenol Corporation, is one of the world's leading suppliers of interconnect products for military and commercial aerospace applications. The company designs and manufactures a wide range of products, including system attachments; junction modules; relay sockets; rectangular and circular connectors; and cable assemblies and adapters.