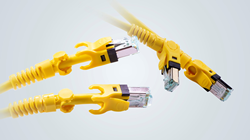 WILMINGTON, Mass. (PRWEB) November 18, 2019
Heilind Electronics, a leading distributor of electronic components worldwide and an authorized distributor for HARTING, is now stocking the manufacturer's VarioBoot RJ45 overmolded cable assemblies. The patch cords introduce the flexibility of controlling the angle and orientation of the RJ45 connectors, creating an ideal fit inside an electrical enclosure or control cabinet.
The HARTING VarioBoot RJ45 supports all matters of routing paths without the risk of interference or transmission loss. The direction of the RJ45 connectors can be adjusted up to 20 times and bent in a left-to-right or up-and-down orientation.
VarioBoot RJ45 patch cords are IP20-rated with durable locking levers. The 10 Gbit/s transmission performance allows compatibility with the most frequently used data rates in industrial Ethernet. Ideal applications include robotics, automation, wind and machinery.
Visit Heilind's website for more information about HARTING VarioBoot RJ45 patch cords.
About Heilind Electronics:
Heilind Electronics, Inc. (http://www.heilind.com) is one of the world's leading distributors of connectors, relays, sensors, switches, thermal management and circuit protection products, terminal blocks, wire and cable, wiring accessories and insulation and identification products. Founded in 1974, Heilind has locations throughout the U.S., Canada, Mexico, Brazil, Germany, Singapore, Hong Kong and China. Follow Heilind on Facebook at facebook.com/Heilind and on Twitter at twitter.com/Heilind.
About HARTING:
The HARTING Technology Group (http://www.harting.com) is a global provider of industrial connection technology for the three lifelines of power, signal and data. The company has 13 production locations as well as business units in 44 countries. In addition, the company produces checkout systems for the retail sector; electromechanical actuators for automotive and industrial series production; and hardware and software for customers and applications in the areas of automation technology, robotics and transportation.