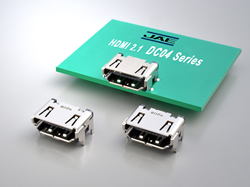 WILMINGTON, Mass. (PRWEB) March 11, 2020
Heilind Electronics, a leading global distributor of electronic components, has added JAE Electronics DC04 Series HDMI connectors to its growing inventory of audio and visual interconnects.
As one of the first connectors approved for HDMI 2.1 use, the DC04 series meets the increasing demand for higher video resolutions and faster refresh rates. The new connectors, which are Category 3, Type A-compatible, ensure stable, high-speed transmission in applications like televisions, monitors, projectors, digital cameras and video boards.
One of the key advantages of the DC04 Series connector is the reduction of crosstalk; this is achieved through optimizing the position of each channel's terminals. The product also uses molded-in contacts to improve impedance characteristics, as well as an original shell tip design to enhance the strength when connected to cables.
Visit Heilind's website for more information about JAE DC04 Series HDMI 2.1 connectors.
About Heilind Electronics
Heilind Electronics, Inc. (http://www.heilind.com) is one of the world's leading distributors of connectors, relays, sensors, switches, thermal management and circuit protection products, terminal blocks, wire and cable, wiring accessories and insulation and identification products. Founded in 1974, Heilind has locations throughout the U.S., Canada, Mexico, Brazil, Germany, Singapore, Hong Kong and China. Follow Heilind on Facebook at facebook.com/Heilind and on Twitter at twitter.com/Heilind.
About JAE Electronics
JAE Electronics is a global leader in the design and manufacture of connectors, user interface devices and aviation electronics. It is recognized for its innovative technologies in developing fine pitch board-to-board, board-to-cable, FPC, memory card, input/output, circular, automotive/transportation, energy storage and waterproof connectors.