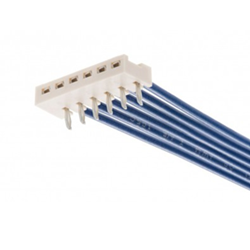 WILMINGTON, Mass. (PRWEB) November 18, 2020
Heilind Electronics, a leading global distributor of electronic components and authorized distributor for Molex, has expanded its selection of interconnect solutions with the company's board-in connectors product line. Featuring a wide range of pitch options, mating configurations and circuit sizes, these connectors offer a more reliable solution than hand-soldered versions.
Molex board-in connectors include both vertical and right-angle configurations and are available in 1.25 mm, 2.0 mm, 2.5 mm and 4.0 mm pitch sizes, along with a variety of mating configurations and circuit sizes. The connectors provide space and cost savings over comparable two-piece connection systems, while eliminating the need for uneven, labor-intensive hand soldering and post-solder strain relief. In addition, Molex board-in connectors provide secure terminal retention force – ultimately protecting terminals and assisting in wire alignment and retention.
Typical applications include patient monitoring, infotainment, downlights, power tools, refrigerators and factory automation.
Visit Heilind's website for more information about Molex board-in connectors.
About Heilind
Heilind Electronics, Inc. is one of the world's leading distributors of connectors, relays, sensors, switches, thermal management and circuit protection products, terminal blocks, wire and cable, wiring accessories and insulation and identification products. Founded in 1974, Heilind has locations throughout the U.S., Canada, Mexico, Brazil, Germany, Singapore, Hong Kong and China. Follow Heilind on Facebook at facebook.com/Heilind and on Twitter at twitter.com/Heilind.
About Molex
Molex brings together innovation and technology to deliver electronic solutions to customers worldwide. With a presence in more than 40 countries, Molex offers a full suite of solutions and services for many markets, including data communications, consumer electronics, industrial, automotive and medical.