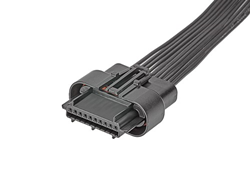 WILMINGTON, Mass. (PRWEB) January 17, 2019
Heilind Electronics, a leading global distributor of electronic components and the largest authorized distributor for Molex in the Americas, has expanded its selection of interconnect solutions with the company's off-the-shelf (OTS) Squba discrete wire cable assemblies.
Squba wire-to-wire cable assemblies are designed to accommodate small spaces and provide protection against liquid, dust and dirt. In addition, their IP67 rating ensures a reliable connection even in wet conditions. Available in a variety of cable lengths to facilitate both prototyping and global production, the assemblies are utilized in commercial vehicle, consumer, industrial and medical markets.
Squba terminals can support up to 5.0 A of power with 22 AWG wire, challenging the traditional rule of increasing wire gauges with higher current ratings.
Visit Heilind's website for more information about Molex OTS Squba discrete wire cable assemblies.
About Heilind Electronics
Heilind Electronics, Inc. (http://www.heilind.com) is one of the world's leading distributors of connectors, relays, sensors, switches, thermal management and circuit protection products, terminal blocks, wire and cable, wiring accessories and insulation and identification products. Founded in 1974, Heilind has locations throughout the U.S., Canada, Mexico, Brazil, Germany, Singapore, Hong Kong and China. Follow Heilind on Facebook at facebook.com/Heilind and on Twitter at twitter.com/Heilind.
About Molex
Molex brings together innovation and technology to deliver electronic solutions to customers worldwide. With a presence in more than 40 countries, Molex offers a full suite of solutions and services for many markets, including data communications, consumer electronics, industrial, automotive, commercial vehicle and medical. For more information, please visit http://www.molex.com.