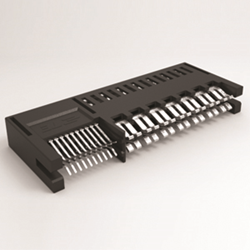 WILMINGTON, Mass. (PRWEB) July 30, 2018
Heilind Electronics, a leading global distributor of electronic components and authorized distributor for TE Connectivity (TE), a global leader in connectivity and sensors, is now stocking TE's high density (HD) card edge power connectors. These power connectors are one of the highest density power connector options in the market to support high power supply applications.
TE's HD card edge power connector provides higher current at 25 A/contact with low resistance and supports 1500-2000 W power supply. These connectors can extend the life of power supply units and are designed for next generation server platforms following the general trend of server architecture.
With a maximum operating temperature of 130 degrees Celsius, TE's HD card edge power connectors can provide reliable performance in harsh environments. Additionally, it has a signal pitch of 1.27 mm, which could make it compatible with standard PCB footprint designs, and allows flexibility with a number of different contact quantities and positions available. These connectors can be ideal for high power supply applications including servers, switches and storage devices.
Visit Heilind's website for more information about TE Connectivity's HD Card Edge Power Connectors.
About Heilind Electronics
Heilind Electronics, Inc. (http://www.heilind.com) is one of the world's leading distributors of connectors, relays, sensors, switches, thermal management and circuit protection products, terminal blocks, wire and cable, wiring accessories and insulation and identification products. Founded in 1974, Heilind has locations throughout the U.S., Canada, Mexico, Brazil, Germany, Singapore, Hong Kong and China. Follow Heilind on Facebook at facebook.com/Heilind and on Twitter at twitter.com/Heilind.
About TE Connectivity
TE Connectivity Ltd. is a $13 billion global technology and manufacturing leader creating a safer, sustainable, productive and connected future. For more than 75 years, TE's connectivity and sensor solutions, proven in the harshest environments, have enabled advancements in transportation, industrial applications, medical technology, energy, data communications and the home. With 78,000 employees, including more than 7,000 engineers working alongside customers in nearly 150 countries, TE ensures that EVERY CONNECTION COUNTS. Learn more at http://www.te.com and on LinkedIn, Facebook, WeChat and Twitter.
TE Connectivity, TE, TE connectivity (logo) and EVERY CONNECTION COUNTS are trademarks of the TE Connectivity Ltd. family of companies.