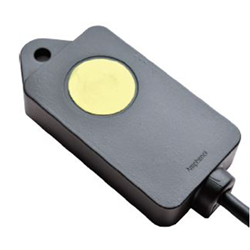 WILMINGTON, Mass. (PRWEB) November 16, 2020
Heilind Electronics, a premier worldwide distributor of electronic components, is now stocking Amphenol Advanced Sensors' Telaire brand T3022 series sensors. The most recent addition to Heilind's diverse portfolio of carbon dioxide (CO2) sensing technologies, the T3022 series produces an I2C digital output and is designed to meet the needs of original equipment manufacturers (OEMs) seeking low-cost sensor installation.
The robust T3022 line features an IP65-rated enclosure and extended operating temperature range. The series is also highly flexible: The CO2 sensing platform is compatible with a variety of microprocessor devices, and the units integrate into environmental monitoring and control systems via I2C serial communication protocols.
The sensors utilize Telaire's Non-Dispersive Infrared (NDIR) measuring technology and are shipped factory-calibrated with integrated mounting tabs and a lifetime calibration warranty. Telaire's patented ABC Logic software can also be used to automate calibration in most applications.
T3022 series sensors provide low-cost, high-performance sensing in a variety of applications, including air-air heat exchanger volume control, residential demand-based ventilation, self-contained ventilation system control and HVAC control.
Visit Heilind's website for more information about Amphenol Advanced Sensors Telaire T3022 series CO2 sensors.
About Heilind Electronics
Heilind Electronics, Inc. (http://www.heilind.com) is one of the world's leading distributors of connectors, relays, sensors, switches, thermal management and circuit protection products, terminal blocks, wire and cable, wiring accessories and insulation and identification products. Founded in 1974, Heilind has locations throughout the U.S., Canada, Mexico, Brazil, Germany, Singapore, Hong Kong and China. Follow Heilind on Facebook at facebook.com/Heilind and on Twitter at twitter.com/Heilind.
About Amphenol Advanced Sensors
Amphenol Advanced Sensors is a leading innovator in advanced sensing technologies and innovative embedded measurement solutions. These solutions are customized for regulatory and industry-driven applications and are designed to create value by providing critical information for real-time decisions.