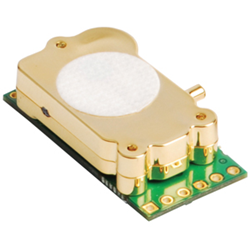 WILMINGTON, Mass. (PRWEB) June 17, 2019
Heilind Electronics, a leading global distributor of electronic components and authorized distributor for Amphenol Advanced Sensors, has expanded its selection of sensor solutions with the addition of Amphenol Advanced Sensors carbon dioxide (CO2) sensing technologies.
Amphenol Advanced Sensors Telaire brand T6700 Series miniature CO2 sensors have the accuracy and reliability of many larger sensors, enabling OEMs (original equipment manufacturers) to develop smaller enclosures and equipment using significantly less power than many other sensor devices.
The OEM CO2 sensor modules include single and dual channel versions, with digital and analog outputs and factory calibration, manufactured to support OEM volume, cost and delivery requirements.
Amphenol Advanced Sensors Telaire brand CO2 transmitter products offer low cost, high performance CO2 sensing for the building controls market. Available in wall and duct mount enclosures, these devices work seamlessly with building automation systems, allowing simple and effective control of indoor ventilation.
Handheld CO2 monitors and accessories are also available, including outdoor air and splash-resistant enclosures; calibration kits; datalogging and programming software; and communication cables.
Amphenol Advanced Sensors' CO2 sensors and transmitters are used to monitor and control air quality within residential or commercial buildings via integration in HVAC systems. The sensors help to maintain proper ventilation levels required by HVAC standards, regardless of occupancy levels. This translates into an efficient ventilation control strategy and energy savings.
Additional uses include kerosene and bioethanol heaters, air purifiers, handheld instrumentation, indoor agricultural controls, refrigerated cargo containers and automotive applications.
Visit Heilind's website for more information about Amphenol Advanced Sensors Carbon Dioxide (CO2) Sensors.
About Heilind Electronics
Heilind Electronics, Inc. (http://www.heilind.com) is one of the world's leading distributors of connectors, relays, sensors, switches, thermal management and circuit protection products, terminal blocks, wire and cable, wiring accessories and insulation and identification products. Founded in 1974, Heilind has locations throughout the U.S., Canada, Mexico, Brazil, Germany, Singapore, Hong Kong and China. Follow Heilind on Facebook at facebook.com/Heilind and on Twitter at twitter.com/Heilind.
About Amphenol Advanced Sensors
Amphenol Advanced Sensors is a leading innovator in advanced sensing technologies and innovative embedded measurement solutions. These solutions are customized for regulatory and industry-driven applications and are designed to create value by providing critical information for real-time decisions.