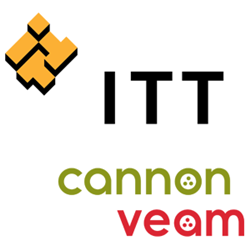 WILMINGTON, Mass. (PRWEB) October 13, 2020
Heilind Electronics, a premier global distributor of electronic components, has expanded its portfolio with the addition of ITT Cannon – a global market leader in the design and manufacture of harsh environment connector solutions. The distribution agreement positions Heilind as a global partner for ITT Cannon, authorizing the sale of these products in the American, European and Asian markets.
In the Americas, the agreement includes both Heilind Electronics and Interstate Connecting Components (ICC), the mil-aero division of Heilind. Heilind and ICC will offer the full ITT Cannon product portfolio.
"This strategic partnership marks a major milestone for us," said Alan Clapp, Vice President, Heilind Electronics. "The diversity and technology behind ITT Cannon's solutions, combined with Heilind's strong sales support and expertise, present a wealth of new options to Hi-Rel and mil-aero customers around the world."
Anh Phan, Vice President of Sales and Marketing for ITT Cannon, echoed the sentiment. "From harness manufactures to defense OEMs and medical solutions providers, this strategic engagement will provide both organizations with a deeper level of customer centricity and a robust pipeline for new, global opportunities," said Phan.
ITT Cannon's products are designed for harsh environment applications in a variety of markets, including aerospace and defense, space, industrial, rail, medical and energy.
Visit the Heilind and ICC websites to view the companies' full product offerings.
About Heilind Electronics
Heilind Electronics, Inc. (http://www.heilind.com) is one of the world's leading distributors of connectors, antennas, relays, sensors, switches, thermal management and circuit protection products, terminal blocks, wire and cable, wiring accessories and insulation and identification products. Founded in 1974, Heilind has locations throughout the U.S., Canada, Mexico, Brazil, Germany, Singapore, Hong Kong and China. Follow Heilind on Facebook at facebook.com/Heilind and on Twitter at twitter.com/Heilind.
About Interstate Connecting Components (ICC)
A division of Heilind Electronics, North America's largest interconnect distributor, Interstate Connecting Components (http://www.connecticc.com) is an AS9100D-certified value-added distributor for the entire spectrum of electronic connectors, fiber optic connectors, backshells, tools, identification solutions and connector contacts. ICC specializes in the military-aerospace market and offers value-added assembly on 26482, 26500, 5015, D38999, M28840, M83513 and many other MIL-SPEC connector lines. Follow ICC on Facebook at facebook.com/connecticc and on Twitter at twitter.com/connecticc.
About ITT Cannon
ITT's Cannon brand is a leading global manufacturer of connector products serving international customers in the aerospace and defense, medical, energy, transportation and industrial end markets. Whether delivering critical specs to aircraft pilots, streaming data through communications satellites or giving expectant parents a first look at their unborn children, Cannon connects the world's most important information to the people who need it. Today, the company proudly continues its legacy of innovating to connect the world and inspiring the successes of the next century – because amazing things happen when great things connect. For more information, visit http://www.ittcannon.com.