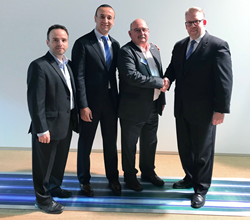 WILMINGTON, Mass. (PRWEB) November 15, 2018
Heilind Electronics, a leading distributor of electronic components, announced the signing of a global distribution agreement yesterday with the HARTING Technology Group. The agreement was signed at the Electronica trade fair in Munich, Germany, marking the extension of Heilind's industrial interconnect offerings worldwide. Heilind has been an authorized distributor of HARTING products in North America since 2017.
Based in Germany, the HARTING Technology Group is a global manufacturer of interconnect solutions and has production facilities in Europe, Asia and North America. HARTING products are used in a variety of industries, including mechanical and plant engineering, broadcast and entertainment, data centers, factory automation, power generation and distribution, industrial electronics and telecommunications.
"We are excited to expand and strengthen our relationship with HARTING," said Alan Clapp, Vice President, Heilind Electronics. "Utilizing our global distribution and sales network, we view this partnership as a natural fit that helps position Heilind closer to our customers while meeting their requirements."
Jon DeSouza, president and CEO of HARTING Americas, added, "With this broadened distribution alliance, we are strengthening our international distribution network from our own branches and distribution partners."
About Heilind Electronics:
Heilind Electronics, Inc. (http://www.heilind.com) is one of the world's leading distributors of connectors, relays, sensors, switches, thermal management and circuit protection products, terminal blocks, wire and cable, wiring accessories and insulation and identification products. Founded in 1974, Heilind has locations throughout the U.S., Canada, Mexico, Brazil, Germany, Singapore, Hong Kong and China. Follow Heilind on Facebook at facebook.com/Heilind and on Twitter at twitter.com/Heilind.
About HARTING:
The HARTING Technology Group (http://www.harting.com) is a leading global provider of industrial connection technology for the three lifelines of Power, Signals and Data. The company has 13 production locations as well as business units in 44 countries. In addition, the company produces checkout systems for the retail sector; electromechanical actuators for automotive and industrial series production; and hardware and software for customers and applications in the areas of automation technology, robotics and transportation.