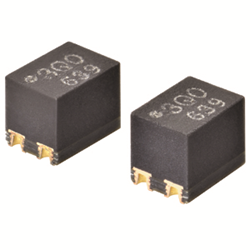 WILMINGTON, Mass. (PRWEB) September 10, 2018
Heilind Electronics, a leading global distributor of electronic components and authorized distributor for Omron, has expanded its selection of commercial relays with the manufacturer's G3VM-QR-S-VSON MOSFET unit – one of the world's smallest class S-VSON MOSFET relays.
The relay's compact footprint allows for high-density mounting, while its low ON resistance and CxR translate into minimal energy loss and exceptional signal integrity. In addition, the MOSFET relay offers a high switching capacity and superior dielectric strength between I/O 500 VAC – more than double that of most other models of its type.
One of the key features of Omron's G3VM-QR-S-VSON MOSFET relay is its resistance to extreme temperatures; this robust relay performs at an operating temperature of -40 degrees Celsius to 110 degrees Celsius. Along with its many other features, this makes it ideal for applications like communication equipment, data loggers and test & measurement equipment for semiconductors and other components.
Visit Heilind's website for more information about Omron's G3VM-QR-S-VSON MOSFET Relays.
About Heilind Electronics
Heilind Electronics, Inc. (http://www.heilind.com) is one of the world's leading distributors of connectors, relays, sensors, switches, thermal management and circuit protection products, terminal blocks, wire and cable, wiring accessories and insulation and identification products. Founded in 1974, Heilind has locations throughout the U.S., Canada, Mexico, Brazil, Germany, Singapore, Hong Kong and China. Follow Heilind on Facebook at facebook.com/Heilind and on Twitter at twitter.com/Heilind.