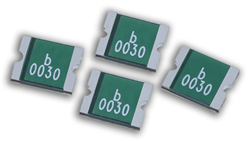 WILMINGTON, Mass. (PRWEB) January 29, 2019
Heilind Electronics, a global distributor of electronic components, has expanded its line of Bel Fuse-Circuit Protection products with the 0ZCN Series of surface mount resettable positive temperature coefficient (PTC) fuses.
The 0ZCN Series 2016 Chip PTC is designed using polymeric materials containing conductive filler bonded between two conductive, planar terminations. When a tripped resistance is reached, the fuse will reset only after power to the circuit is removed, the fault is cleared, and power is reapplied to the circuit. This unique reset ability protects electronic equipment from overload, thus eliminating the need for service personnel to physically replace a fuse.
These PTC devices are used in a wide variety of industrial, computer, battery, consumer electronics, telecom and automotive applications. Because they protect valuable electronic systems, the fuses help to reduce warranty and services costs.
Visit Heilind for more information and to place your order for Bel OZCN Resettable PTC Fuses.
About Heilind Electronics
Heilind Electronics, Inc. (http://www.heilind.com) is a franchised distributor for Bel Circuit Protection products and one of the world's leading distributors of connectors, relays, sensors, switches, thermal management and circuit protection products, terminal blocks, wire and cable, wiring accessories and insulation and identification products. Founded in 1974, Heilind has locations throughout the U.S., Canada, Mexico, Brazil, Germany, Singapore, Hong Kong and China. Follow Heilind on Facebook at facebook.com/Heilind and on Twitter at twitter.com/Heilind.
About Bel
Bel (http://www.belfuse.com) designs, manufactures and markets a broad array of products that power, protect and connect electronic circuits. These products are primarily used in the networking, telecommunications, computing, military, aerospace, transportation and broadcasting industries. Bel's product groups include Magnetic Solutions (integrated connector modules, power transformers, power inductors and discrete components), Power Solutions and Protection (front-end, board-mount and industrial power products, module products and circuit protection), and Connectivity Solutions (expanded beam fiber optic, copper-based, RF and RJ connectors and cable assemblies). The Company operates facilities around the world.