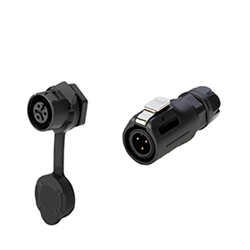 WILMINGTON, Mass. (PRWEB) October 05, 2020
Heilind Electronics, a leading global distributor of electronic components and authorized distributor for Amphenol ICC, is now stocking Amphenol ICC MRD series circular connectors.
These rugged circular locking connectors provide reliable power or signal connections in harsh industrial, instrumentation and medical applications. The sealed circular connectors offer IP67 protection against water and dust ingress and are rated for up to 10 A and 500 V to support high-power applications. The MRD series is also available in 2, 3 and 4 position form factors to support design flexibility.
Additional options include an all-plastic construction or locking metal housing; a one-third-turn bayonet locking mechanism or quick-release metal latches; panel mount or cable termination; and optional finger-proof protection. Compliant with RoHS and REACH/SVHC directives, the series is rated for 500-cycle durability in operating temperatures ranging from -55 degrees Celsius to +105 degrees Celsius.
The MRD series is a popular choice for power generation equipment, smart grids, LED lighting, MRI and CT scanners and ultrasound equipment.
Visit Heilind's website for more information about Amphenol ICC MRD series rugged circular locking connectors.
About Heilind Electronics
Heilind Electronics, Inc. (http://www.heilind.com) is one of the world's leading distributors of connectors, relays, sensors, switches, thermal management and circuit protection products, terminal blocks, wire and cable, wiring accessories and insulation and identification products. Founded in 1974, Heilind has locations throughout the U.S., Canada, Mexico, Brazil, Germany, Singapore, Hong Kong and China. Follow Heilind on Facebook at facebook.com/Heilind and on Twitter at twitter.com/Heilind.
About Amphenol ICC
Amphenol ICC, a division of Amphenol Corporation, is a world leader providing interconnect solutions for the Information, Communications and Commercial electronics markets. Amphenol ICC designs and manufactures a wide range of innovative connectors as well as cable assemblies for diverse applications including server, storage, data center, networking, industrial, business equipment and automotive. https://www.amphenol-icc.com