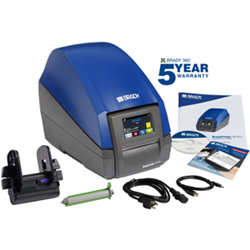 WILMINGTON, Mass. (PRWEB) February 07, 2019
Heilind Electronics, a leading global distributor of electronic components and authorized distributor for Brady, has added the BradyPrinter i5100 Industrial Label Printer to its line of Brady identification products.
Designed for organizations with routine high-mix printing requirements, the i5100 utilizes Brady Workstation and LabelMark™ label creation software to produce up to 5,000 labels a day. This high-volume printing is simplified by both a top-loading design and by specialized ribbon spindles and roll holders for fast material changeovers. The rollers are available in a variety of widths to reduce print head wear.
A key advantage of the BradyPrinter i5100 Industrial Label Printer is its user-friendly design. The printer is not only compatible with Brady's software, but also with the company's labels, sleeves and ribbons. All of these products are embedded with IP-enabled RFID tags, allowing the components to work together and streamline the label setup and creation processes.
Further enhancing the i5100's usability is its touch-screen interface. This allows users to navigate between screens, change settings and view printing status with ease.
Each unit features a diverse set of connection options, including ports for USB, RS-232C, Ethernet and SD cards. Customers can select from 300 dpi or 600 dpi heads, as well as from auto-cut options. This versatile printer is used in sectors like contract manufacturing and logistics for the identification of products, distribution facilities, electronic components and wires.
Visit Heilind's website for more information about BradyPrinter i5100 Industrial Label Printers.
About Heilind Electronics
Heilind Electronics, Inc. (http://www.heilind.com) is one of the world's leading distributors of connectors, relays, sensors, switches, thermal management and circuit protection products, terminal blocks, wire and cable, wiring accessories and insulation and identification products. Founded in 1974, Heilind has locations throughout the U.S., Canada, Mexico, Brazil, Germany, Singapore, Hong Kong and China. Follow Heilind on Facebook at facebook.com/Heilind and on Twitter at twitter.com/Heilind.
About Brady Corporation
Brady Corporation is an international manufacturer of high-performance labels, signs, safety devices, printing systems and software. Founded in 1914, the company has a diverse customer base in electronics, telecommunications, manufacturing, electrical systems, construction, medicine, aerospace and a variety of other industries. For more information, visit http://www.bradyid.com.