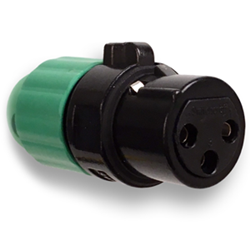 WILMINGTON, Mass. (PRWEB) February 21, 2019
Heilind Electronics, an authorized distributor for Switchcraft and a premier distributor of electronic components worldwide, is now stocking the manufacturer's new AAA Series low-profile XLR connectors.
The new XLR design builds upon the durability and ease of use of traditional AAA Series connectors by combining the same connector body with a smaller plastic backshell. As a result, the low-profile connector is 75 percent lighter and 80 percent smaller than its R Series XLR counterpart. Adding to this space savings is the 360 degree orientation of the cable, which exits the connector sideways and can easily be adjusted to face any direction.
All Switchcraft AAA Series connectors feature a two-piece design with integral strain relief for quick assembly. The pins are pre-loaded into the front shells, further reducing assembly time. The low-profile XLR connectors feature 15 A current ratings and a long service life of up to 5,000 mating cycles. These 3-7 position connectors are available in four colors, with male or female contacts.
The new low-profile connectors are ideal for speakers, amplifiers, mixers, signal processors and other applications where small size and low weight are critical.
Visit Heilind's website for more information about Switchcraft AAA Series Low-Profile XLR Connectors.
About Heilind Electronics
Heilind Electronics, Inc. (http://www.heilind.com) is one of the world's leading distributors of connectors, relays, sensors, switches, thermal management and circuit protection products, terminal blocks, wire and cable, wiring accessories and insulation and identification products. Founded in 1974, Heilind has locations throughout the U.S., Canada, Mexico, Brazil, Germany, Singapore, Hong Kong and China. Follow Heilind on Facebook at facebook.com/Heilind and on Twitter at twitter.com/Heilind.
About Switchcraft
Switchcraft is a leading supplier of interconnect components for the audio, video, telecommunication, computer, medical, military, appliance, transportation and instrumentation industries. The manufacturer specializes in custom-engineered harsh environment products, with a focus on sealed circular connectors. For more information, visit http://www.switchcraft.com.