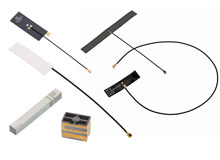 WILMINGTON, Mass. (PRWEB) October 25, 2018
Heilind Electronics, a leading global distributor of electronic components and authorized distributor for Molex, is now stocking a wide array of ready-to-use Molex antennas for use in IoT (Internet of Things), automotive, industrial and medical applications.
With a growing number of devices relying on connectivity via wireless and Bluetooth technology, antennas are playing an integral role – particularly in the development of hardware across the ever- growing suite of IoT products in the consumer, commercial, industrial and infrastructure spaces.
The Molex portfolio of antennas incorporates the latest innovative technologies, including Bluetooth/Wi-Fi, GNSS, combo, cellular and NFC. The ready to use antennas are available in multiple form factors offering design engineers space and cost saving opportunities.
Molex designs and manufactures custom antenna solutions for a range of wireless and mobile applications, focusing on small multiband and complementary antennas employing MID/LDS, flex, stamped and ceramic technologies.
Visit Heilind's website for more information about its Molex Antenna Portfolio.
About Heilind Electronics
Heilind Electronics, Inc. (http://www.heilind.com) is one of the world's leading distributors of connectors, antennas, relays, sensors, switches, thermal management and circuit protection products, terminal blocks, wire and cable, wiring accessories and insulation and identification products. Founded in 1974, Heilind has locations throughout the U.S., Canada, Mexico, Brazil, Germany, Singapore, Hong Kong and China. Follow Heilind on Facebook at facebook.com/Heilind and on Twitter at twitter.com/Heilind.