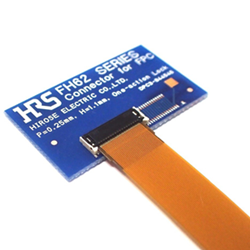 WILMINGTON, Mass. (PRWEB) March 07, 2019
Heilind Electronics, an authorized distributor for Hirose and a premier distributor of electronic components worldwide, is now stocking the manufacturer's FH62 Series FPC connectors.
These robust connectors feature an easy-to-use single-action lock that secures through a simple insertion of the FPC after mounting -- ultimately reducing assembly time. Because this design eliminates the requirement to close a locking lever while mating, it prevents FPC movement during insertion and damage to the lever during operation.
Another benefit of the FH62 Series is its compact footprint. The connectors feature a 0.25 mm pitch and 4.0 mm width, conserving space on printed circuit boards. Despite their smaller size, FH62 Series connectors generate a high FPC retention force. In addition, they accommodate FPCs as thick as 0.3 mm.
FH62 Series connectors support high-speed transmissions conforming to eDP, MIPI and USB 3.0 standards. In addition, they are RoHS-compliant and halogen-free.
Due to their intuitive design and excellent impedance properties, the new FPC connectors are ideal for use in applications like medical electronics, banking, office systems and consumer electronics.
Visit Heilind's website for more information about Hirose FH62 Series FPC connectors.
About Heilind Electronics
Heilind Electronics, Inc. (http://www.heilind.com) is one of the world's leading distributors of connectors, relays, sensors, switches, thermal management and circuit protection products, terminal blocks, wire and cable, wiring accessories and insulation and identification products. Founded in 1974, Heilind has locations throughout the U.S., Canada, Mexico, Brazil, Germany, Singapore, Hong Kong and China. Follow Heilind on Facebook at facebook.com/Heilind and on Twitter at twitter.com/Heilind.
About Hirose
One of the world's largest interconnect manufacturers, Hirose offers a wide variety of high-performance connectors. Hirose's products include RF, coaxial, board-to-board, wire-to-board and industrial power connectors for use in computers, peripheral equipment, terminal equipment, wired and wireless communications, office automation and many other applications.