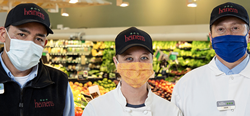 "In our search for a SaaS competitive pricing partner, Engage3 was the clear frontrunner. They have all of the capabilities that we were looking for to execute our pricing strategy and we believe their private label matching capabilities will be superior to our previous partner's." - Kim Heinen
DAVIS, Calif. (PRWEB) February 23, 2021
Engage3, which helps retailers and brands profitably grow revenue and drive store trips by tracking and optimizing their Price Image, has today partnered with Heinen's, an upscale Mid-West grocery chain with stores in Ohio and Illinois, to expand their omni-channel competitive visibility and analytics with Engage3's Competitive Intelligence Management (CIM) solution.
CIM will allow Heinen's to achieve the most comprehensive competitive pricing visibility, while leveraging its ML-powered product linking capabilities to attain a contextualized view of their competitors' equivalent items at the localized market level.
A neighborhood grocery store started in 1929 by a local butcher, Joe Heinen, Heinen's was ranked as the #3 Best U.S. Grocery Store in Consumer Reports' reader ratings in 2019. It was also named the "Best Grocery Store" in Cleveland Scene's Best of Cleveland 2020 Awards last year.
"In our search for a SaaS competitive pricing partner, Engage3 was the clear frontrunner. They have all of the capabilities that we were looking for to execute our pricing strategy and we believe their private label matching capabilities will be superior to our previous partner's," said Kim Heinen.
CIM is currently in use at six of the 10 largest retailers in North America and provides the most comprehensive view of competitive pricing activity to retailers. By combining in-store data collection, online web scrapes, and ad-hoc data collection within the Missions App, retailers can see store-level pricing for all of their competitors.
"Heinen's upscale offerings of the highest-quality foods and the greatest assortment has earned them a great following of loyal customers," said Edris Bemanian, CEO of Engage3. "We are thrilled to partner with them in enhancing their competitive pricing visibility and powering their product linking analytics, to set pricing that resonates with their shoppers."
About Engage3
Engage3 was founded by the creators of KhiMetrics (acquired by SAP), who are credited with inventing the retail price optimization space. Engage3's leadership team is composed of former KhiMetrics, SAP, Revionics, dunnhumby, KSS Retail, IBM/DemandTec and Nielsen executives.
International Data Corporation (IDC) recently positioned Engage3 as a Leader in its MarketScape Vendor Analysis Report for changing the game and leading the next frontier in strategic pricing solutions. Engage3 has also been listed in the Inc. 5000 for 4 years in a row since 2017.
Engage3's Competitive Intelligence Management (CIM) is an AI-assisted, attribute-based, and data science-driven solution that provides accurate, granular competitive data (30 billion product pricing records collected annually in the U.S. and Canada) and like-item-linking visibility. CIM helps retailers reverse-engineer their competitors' pricing and assortment strategies across channels, markets, and items. Price Image Management (PIM) is a next generation pricing solution that defines the impact of strategic pricing alternatives and unlocks pricing recommendations based on a retailer's objectives for Price Image, sales, and profitability. Engage3's Price Image management solutions help retailers understand and manage their Price Image and align it with their sales and profitability objectives using predictive modeling.
More information is available at http://www.engage3.com.
About Heinen's
Founded in 1929 in Shaker Heights, Ohio, by local butcher Joe Heinen, Heinen's has grown to 23 total locations with 19 stores in the Cleveland area and four in the North Shore suburbs of Chicago. Heinen's employs more than 3,000 associates. Today, Joe Heinen's twin grandsons, Jeff and Tom Heinen, carry on the family legacy of unrivalled quality food and world-class customer service.
To learn more, connect with Heinen's on Facebook and Instagram or visit http://www.heinens.com.