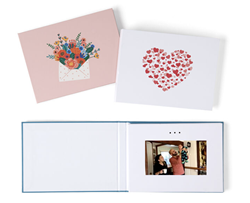 "Video books are a gift at many points in life, even the most heartbreaking times," said Heirloom founder Ashley Kenny.
WASHINGTON (PRWEB) April 26, 2021
Among its many versatile uses, Heirloom is preserving the memory of those with life-threatening illnesses with its customized video playing books. The current climate has found many people turning to the innovative new product to leave behind a digital legacy, especially for those unable to say goodbye in person in the era of COVID-19.
"Video books are a gift at many points in life, even the most heartbreaking times," said Heirloom founder Ashley Kenny.
In just seconds, users upload videos and messages to the Heirloom website to create a physical book with an integrated video player that automatically plays a 10-minute video when opened.
A recent testament to this brought to us by Debbie Milam. As she faces life-threatening infections that make it crucial for her to share her lasting wishes with those that mean the most to her - her husband, children, and grandchildren. As an author, she knows the power that books have and has relied on Heirloom as a way to deliver messages to her loved ones after she is gone.
"I'm a 57-year-old author who one year ago at the same time faced four life-threatening infections. Although the infections are gone, I am left with severe life-altering disabling post-COVID symptoms. I am currently on palliative care being reevaluated for hospice care," said Milam.
"As I face my mortality, I wanted to leave a legacy of faith, love, memories, and prayer that would comfort my loved ones in their grieving process and would be a lasting reminder that our love is eternal. None of us know when we will draw our last breath, only God knows that. Yet creating an Heirloom book brought me such a sense of peace and also joy knowing my loved ones will have the perfect gift when I am no longer here."
The family-owned business has proven to be a heartwarming tool to comfort families through the toughest of times. For more information and easy-to-use instructions for creating a book, visit sendheirloom.com.
About Heirloom:
Heirloom's mission is to make it possible for special moments to be shared with family and friends, even when they cannot be there in person. Founder Ashley Kenny created the product when she noticed her grandmother was feeling lonely and missing out on the joy of sharing videos of life's most precious moments. Heirloom mails your videos in a physical book that automatically plays when opened for your loved ones to enjoy and cherish. Just visit the website, upload your videos and pick your cover. Your video book is shipped full of your videos in just 48 hours and arrives in five to seven business days.