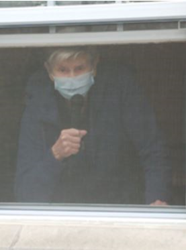 "You're a PEACH of a gal!"
ROCKFORD, Ill. (PRWEB) May 05, 2020
On Saturday, April 25, approximately 140 cars paraded by Heritage Woods of Rockford, an affordable assisted lifestyle community managed by Gardant Management Solutions, to pay tribute to one of the original Rockford Peaches. Helen "Sis" Waddell had a key role for the women's baseball team and later in the movie A League of Their Own.
Helen played for the Rockford Peaches in the All-American Girls Professional Baseball League in 1950 and 1951. She is a local celebrity who has called Rockford, IL her home since her professional baseball career ended.
Helen turned 90 years old on Friday, April 24. In tribute, her family spearheaded a campaign to honor this local icon with a Birthday Drive-By Parade. The parade, hosted at Heritage Woods of Rockford, received attention from local news stations as well.
Neil Wyatt, Helen's son, did not expect the huge turnout. It ended up being about a 40-minute parade in celebration of his mother.
There were hoots, hollers, honks and lots of fanfare for a very deserving PEACH of a gal!