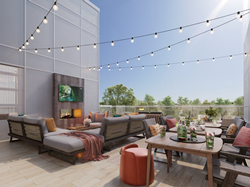 Drucker + Falk is committed to providing exciting new communities for Chesapeake residents, and Helix is just the tip of the iceberg. - Wendy Drucker, Managing Director of Drucker + Falk
CHESAPEAKE, Va. (PRWEB) September 01, 2020
Helix Apartments, a six-story urban mixed-use community with 133 apartment homes and ground-floor restaurant/retail spaces, is the first residential community in Summit Pointe. Helix, managed and leased by Drucker + Falk, is leading the Chesapeake multifamily market in rent per square foot. In just two months of accepting applications, nearly 65 percent of the apartment units have been pre-leased, and more than 100 prospects have expressed interest in the months prior to pre-leasing.
Two additional residential communities, Mosaic and The Belaire, are scheduled for Phase Three of Summit Pointe, located in the heart of the Greenbrier Central Business District. All three apartment communities will be located on three adjacent blocks, creating a synergy between residential, retail and office properties. The communities will vary in height from four to ten stories, and all will feature uniquely designed apartment homes with multi-faceted, modern resident amenities. Each future resident will have the option to hand select their home, as personal hard hat tours are being offered by request.
Summit Pointe is a distinctive, metropolitan mixed-use destination singularly focused on high quality offerings and amenities. The vibrant community is home to luxurious apartments that are surrounded by the region's largest employment base in addition to some of the most popular spots in Hampton Roads for shopping, dining, and entertainment.
With an elegant, stylish design and on-trend interior finishes, Helix provides the ultimate in modern living: granite countertops; stainless steel appliances; sleek wood grain plank flooring; a rooftop sky lounge that includes an outdoor gas fireplace and natural gas grills and overlooks all of Summit Pointe; a 24/7 fitness center with state-of-the-art Matrix cardio and weight training equipment; keyless 24/7 controlled access to the building; Wi-Fi lounge and gourmet coffee bar; attached parking garage; an Amazon Hub package locker; dry cleaning pick up and drop off; and much more.
Wendy Drucker, managing director of Drucker + Falk, says, "We are thrilled to partner with Summit Pointe Realty and to have the opportunity to be a part of all of the exciting development happening in Chesapeake. Drucker + Falk is committed to providing exciting new communities for Chesapeake residents, and Helix is just the tip of the iceberg. "
Concurrently under construction in Phase Two of Summit Pointe is 555 Belaire, an unrivaled 150,000-square-foot office tower located between Volvo Parkway and Belaire Avenue. The building, directly across the street from Helix, has five levels of office space with a distinctive multi-story lobby and engaging street-level retail and restaurant spaces. Inviting outdoor parks and plazas will encourage active community involvement. Completion and occupancy of 555 Belaire is expected in fall 2020.
Phase One development in Summit Pointe included the October 2018 delivery and occupancy of the Dollar Tree, Inc. (NASDAQ: DLTR) Store Support Center. Dollar Tree is the region's largest Fortune 500 company, currently ranked #131, and its campus in Summit Pointe is home to more than 2,000 associates.
Chris Williams, sr. vice president of Summit Pointe Realty says, "The city of Chesapeake demonstrated the want and the need for an urban lifestyle community. Throughout the phases of development, the overwhelmingly positive response, the fast-paced leasing velocity, and the droves of interest show that we are headed in the right direction, and we are very excited to see this area grow."
About Drucker + Falk
Founded in 1938, Drucker + Falk is a full service real estate and investment firm managing a diverse portfolio of nearly 40,000 apartment homes and approximately 3,000,000 square feet of office, retail and industrial space in 13 states. In addition to managing a broad range of properties, including class A+ to affordable apartment communities, mixed-use and all types of commercial properties, Drucker + Falk partners with clients on developing new properties, renovating and repositioning assets, converting historic properties to unique, upscale apartment homes and offers commercial leasing and sales services. For more information visit DruckerandFalk.com.
About Summit Pointe Realty, LLC
Summit Pointe Realty, LLC oversees the planning, development and leasing operations at
Summit Pointe in Chesapeake, Virginia.
Visit Summit Pointe Website
SummitPointeVA.com