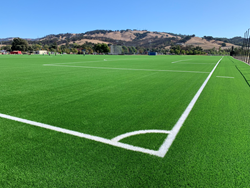 SANTA ROSA, Calif. (PRWEB) October 21, 2020
The Sonoma Soccer Complex in Santa Rosa, California, joins an elite list of only 16 North American synthetic turf pitches that have received FIFA certification. The Sonoma Soccer Complex is home to the Santa Rosa United Soccer Club, a premier youth soccer organization.
"We are most pleased to have been able to develop these superior quality fields and are looking forward to the high level of play" said John Quinn, President, Sonoma Soccer Complex.
Hellas Construction, headquartered in Austin, TX, takes a turn-key approach to athletic facilities. Hellas owns and operates its own construction and installation equipment using its own crews. These investments allow Hellas to meet the timing, budget, and quality demands of its clients without reliance upon third parties. 37% of all FIFA certified fields in the United States have been installed by Hellas Construction. North Collier Regional Park in Naples, Florida has four FIFA certified fields and the Sonoma Soccer Complex adds two additional fields to the list.
The Tom Schopflin fields have an advanced turf system which includes a GMax Drain® Pad and AirOfill infill. GMax Drain is a pre-fabricated pad specially designed to flex upon impact, providing superior player protection. This pad offers great planarity and horizontal drainage capabilities optimal for a synthetic turf system. The GMax Drain is a high-density injection molded polypropylene pad made from recycled material and is fully recyclable after use.
AirOfill is a cylindrical shape thermoplastic elastomer infill with hollow space inside the granule, which provides its shock absorption function. The engineered compound formulation of the infill offers a perfect balance of elasticity and resilience, which allows the granule to return to its original shape after impact. AirOfill will lower temperatures during hotter months as the heat is rapidly released because of the wider granule surface, drastically reducing field temperatures by up to 20-30 degrees.
The fields are named in memory of Tom Schopflin, the long-time Sonoma County administrator who passed away in 2000 and was a strong supporter of youth sports.
Hellas Construction, Inc. headquartered in Austin, TX, is the largest vertically-integrated sports construction contractor in the United States, specializing in the general construction of sports facilities and sports surfaces. Hellas champions innovative artificial turf manufacturing, base construction, field, track and tennis planning, along with installation and maintenance. Hellas products are protected by one or more of the following patents: 6,800,339; 7,838,096; 7,249,913; 7,364,634. hellasconstruction.com
Tom Schopflin Fields are located in the Larkfield area of Santa Rosa, California and are primarily used by youth sports organizations. The property is former farm land purchased by the Sonoma County Agricultural Preservation and Open Space District. The land is transferred to the county for the purpose of developing a public park in this Sonoma County Regional Park facilities.