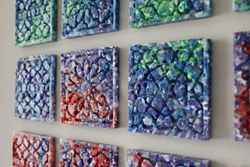 The more we can upcycle, the less plastic waste pollutes our planet
ATLANTA (PRWEB) May 07, 2020
Hellian Plastic launched Kickstarter campaign featuring handcrafted tiles made from 100% recycled plastic. Hellian tiles are small design pieces which can be displayed as wall art or used as coasters. They have marbled color patterns and are impressed with intricate designs (see more on Kickstarter, facebook or @hellianplastic). Lucas Mitchell created the tiles in his garage using scraps of plastic waste.
"The more we can upcycle, the less plastic waste pollutes our planet," said Mitchell. "This is Hellian Plastic: we bring plastics back from hell."
When upcycled, that plastic avoids landfills and oceans. 448 million tons of plastic are produced globally each year, and only 9% of plastic in U.S. is recycled.
Hung in a series such as a square of 4 or a rectangle of 12, eco-friendly Hellian tiles add a unique style to any sized space. Hellian tiles solve problems of typical coasters; they don't stick to your glass and they're quiet when setting a glass down. Either way, consumers can enjoy with added comfort that the product helps protect the planet.
Hellian tiles are made from plastic waste like shampoo bottles, which is collected and shredded. Hellian plastic blends different colored plastic flakes in a way to cause a marbled pattern of bright colors. Each tile is unique because of this process done by hand. Hellian Plastic heats plastic flakes at a low temperature, and then impresses plastic with molds to create a tile shape with an engraved design. Impressed designs include Moorish patterns, Celtic knots, and sea animal silhouettes.
"We have to take action on the plastic problem; over 8 million tons of plastic are dumped into the oceans every year," continued Mitchell. "With beautifully handmade products, we can make this plastic more than waste. These tiles are just the beginning. With consumer support, we'll create more products – and larger ones – so that we can keep more plastic waste out of the environment."
To see more, visit https://www.kickstarter.com/projects/hellianplastic/hellian-plastic-100-recycled-material?ref=8gebr8 or follow @HellianPlastic on Instagram and Facebook.
###
Hellian Plastic was founded in 2020 with the mission to reuse plastic waste to create beautiful products. In his garage in Atlanta, GA, Lucas Mitchell created Hellian tiles, handcrafted design pieces made from 100% recycled plastic. The Hellian Plastic team is committed to protecting our planet from pollution by upcycling plastic waste and creating a more sustainable future.
Sources: Conservation International, National Geographic, Ecowatch, Ocean Conservancy