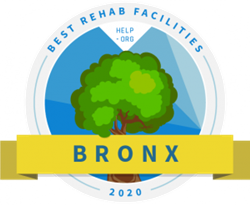 BRONX, N.Y. (PRWEB) January 22, 2020
Help.org, a trusted online resource for individuals who struggle with addiction and their loved ones, has announced the Best Rehab Facilities in Bronx, New York for 2020. The informational guide recognizes the top 20 rehab facilities based on cost, treatment options, location, accompanying services and more.
According to recent studies, drug overdose is the leading cause of death among people under age 50. In Bronx, deaths related to opioid abuse increased significantly from 2011 to 2015. Substance abuse among adolescents is also escalating in Bronx with 55 percent of high school students reported using alcohol, 38 percent reported using marijuana, 8 percent reported using prescription drugs without a valid prescription, and 2 percent reported using heroin. With the growing need for accessible and high-quality rehab programs, Help.org has developed a unique ranking process to help connect individuals with treatment providers that meet their needs.
The Help.org research team analyzed thousands of facilities across the country and then identified the most cost-effective and highest rated programs in larger cities like Bronx. Each facility was evaluated based on rehabilitation services, treatment approaches, cost, special programs for unique demographics and ancillary services. The website also provides information about drug use and side effects as well as educational articles. For a detailed listing of the Best Rehab Facilities in Bronx, New York please visit https://www.help.org/best-drug-and-alcohol-rehab-centers-in-bronx-ny/
2020 Best Rehab Facilities in Bronx, New York (in alphabetical order)
Argus Community, Inc. Elizabeth L Sturz Outpatient Center
760 East 160th Street
Bronx, NY 10456
718-401-5700
Arms Acres
75 Seminary Hill Road
Carmel, NY 10512
845-225-3400
Ascendant New York
113 E. 60 Street
New York City, NY 10022
917-262-0003
Conifer Park
79 Glenridge Road
Glenville, NY 12302
800-989-6446
Farnham Family Services Chemical Dependency Outpatient
283 West 2nd Street, Suite 200
Oswego, NY 13126
315-342-4489
Flushing Hospital Addiction Treatment
4500 Parsons Boulevard
Flushing, NY 11355
718-670-5000
H.E.L.P. Services, Inc.
33 Guy Lombardo Avenue
Freeport, NY 11520
516-546-2822
Horizon Health Services
55 Dodge Road
Getzville, New York 14068
716-831-1800
Housing Works
57 Willoughby Street
Brooklyn, NY 11201
347-473-7400
Jacobi Medical Center Chemical Dependency Detox
1400 Pelham Parkway South
Bronx, NY 10461
718-918-5000
Long Island Center for Recovery
320 West Montauk Highway
Hampton Bays, NY 11946
631-728-3100
New York Therapeutic Communities, Inc.
2071 Fulton Street
Brooklyn, New York 11233
718-398-0096
Odyssey House
120 Wall Street
New York City, NY 10005
212-361-1600
Realization Center, Inc.
175 Remsen Street
Brooklyn, New York, 11201
718-342-6700
Saint Jude Retreat
9 Market Street
Amsterdam, NY 12010
518-842-2204
Samaritan Village, Inc. Residential Drug-Free Program
138-02 Queens Boulevard
Briarwood, NY 11435
718-206-2000
START Treatment & Recovery Centers
937 Fulton Street
Brooklyn NY 11238
718-260-2900
Step One at Northeast Center for Special Care
300 Grant Avenue
Lake Katrine, NY 12449
845-336-3500
Success Counseling Services Inc Outpatient AOD Clinic
1015 Ogden Avenue
Bronx, NY 10452
718-538-6112
VIP Community Services
770 E. 176th Street
Bronx, NY 10460
718-583-5150
ABOUT HELP.ORG
Help.org is an online resource for individuals who struggle with addiction and their loved ones. The website provides the latest research through scientifically proven methods, community recovery resources as well as information about local financial assistance. Help.org's team of researchers, activists and writers work together with addiction counselors and other professionals to offer useful and accurate resources to help individuals seeking recovery. To learn more, visit https://www.help.org/.