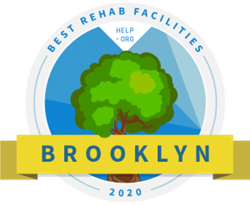 BROOKLYN, N.Y. (PRWEB) January 22, 2020
Help.org, a trusted online resource for individuals who struggle with addiction and their loved ones, has announced the Best Rehab Facilities in Brooklyn, New York for 2020. The informational guide recognizes the top 26 rehab facilities based on cost, treatment options, location, accompanying services and more.
According to recent studies, drug overdose is the leading cause of death among people under age 50. In Brooklyn, deaths related to opioid abuse increased significantly from 2011 to 2015. Substance abuse among adolescents is also escalating in Brooklyn with 55 percent of high school students reported using alcohol, 38 percent reported using marijuana, 8 percent reported using prescription drugs without a valid prescription, and 2 percent reported using heroin. With the growing need for accessible and high-quality rehab programs, Help.org has developed a unique ranking process to help connect individuals with treatment providers that meet their needs.
The Help.org research team analyzed thousands of facilities across the country and then identified the most cost-effective and highest rated programs in larger cities like Brooklyn. Each facility was evaluated based on rehabilitation services, treatment approaches, cost, special programs for unique demographics and ancillary services. The website also provides information about drug use and side effects as well as educational articles. For a detailed listing of the Best Rehab Facilities in Brooklyn, New York please visit https://www.help.org/best-drug-and-alcohol-rehab-centers-in-brooklyn-ny/
2020 Best Rehab Facilities in Brooklyn, New York (in alphabetical order)
Arms Acres
75 Seminary Hill Road
Carmel, NY 10512
845-225-3400
Bridge Back to Life Center Inc
175 Remsen Street, 10th Floor
Brooklyn, NY 11201
718-852-5552
Bridging Access to Care Inc Chemical Dependency Outpatient
2261 Church Avenue
Brooklyn, NY 11226
347-505-5176
Community Counseling and Mediation
25 Elm Place, 2nd Floor
Brooklyn, NY 11201
718-802-0666
Counseling Services of EDNY
175 Remsen Street, Suite 900
Brooklyn, NY 11201
718-858-6631
Dynamic Youth Community Outpatient
1830 Coney Island Avenue
Brooklyn NY 11230
718-376-7923
Farnham Family Services Chemical Dependency Outpatient
283 West 2nd Street, Suite 200
Oswego, NY 13126
315-342-4489
Flushing Hospital Medical Center
4500 Parsons Boulevard
Flushing, NY 11355
718-670-5000
Freedom Institute
515 Madison Avenue
New York, NY 10022
212-838-0044
Hands on Health Associates LLC
249 Pennsylvania Avenue
Brooklyn, NY 11207
347-547-3626
H.E.L.P. Services, Inc.
33 Guy Lombardo Avenue
Freeport, NY 11520
516-546-2822
Horizon Health Services
55 Dodge Road
Getzville, New York 14068
716-831-1800
Housing Works
57 Willoughby Street
Brooklyn, NY 11201
347-473-7400
Long Island Interventions
130 Post Avenue
Westbury, NY 11590
631-887-3234
New Directions Clinic Alcohol and Substance Abuse Outpatient
500 Atlantic Avenue
Brooklyn, NY 11217
718-398-0800
New York Therapeutic Communities, Inc
2071 Fulton Street
Brooklyn, New York 11233
718-398-0096
Odyssey House
120 Wall Street
New York City, NY 10005
212-361-1600
Outreach at Greenpoint Brooklyn
960 Manhattan Avenue
Brooklyn, NY 11222
718-383-7200
Parallax Center, Inc.
145 East 32nd Street, 6th Floor
New York, NY, 10016
212-779-9207
Paul J Cooper Center for Human Servs Drug Abuse Outpt Rehab Clinic
510 Gates Avenue
Brooklyn, NY 11216
718-498-5555
Saint Jude Retreat
9 Market Street
Amsterdam, NY 12010
518-842-2204
Sober Companion NYC
25-37 46th Street
Astoria, NY 11103
917-817-7686
Step One at Northeast Center for Special Care
300 Grant Avenue
Lake Katrine, NY 12449
845-336-3500
The SAFE Foundation, Inc.
PO Box 230060
Brooklyn, NY 11223
866-569-7233
TRI Center Inc Drug Abuse Treatment
175 Remsen Street
Brooklyn, NY 11201
718-858-4050
Urban Recovery
411 Van Brunt Street
Brooklyn, NY 11231
646-859-0699
ABOUT HELP.ORG
Help.org is an online resource for individuals who struggle with addiction and their loved ones. The website provides the latest research through scientifically proven methods, community recovery resources as well as information about local financial assistance. Help.org's team of researchers, activists and writers work together with addiction counselors and other professionals to offer useful and accurate resources to help individuals seeking recovery. To learn more, visit https://www.help.org/.