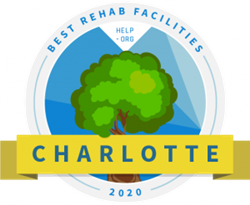 CHARLOTTE, N.C. (PRWEB) March 06, 2020
Help.org, a trusted online resource for individuals who struggle with addiction and their loved ones, has announced the Best Rehab Facilities in Charlotte, North Carolina for 2020. The informational guide recognizes the top 31 rehab facilities based on cost, treatment options, location, accompanying services and more.
According to recent studies, drug overdose is the leading cause of death among people under age 50. In Charlotte, deaths related to opioid abuse increased significantly from 2011 to 2015. Substance abuse among adolescents is also escalating in Charlotte with 55 percent of high school students reported using alcohol, 38 percent reported using marijuana, 8 percent reported using prescription drugs without a valid prescription, and 2 percent reported using heroin. With the growing need for accessible and high-quality rehab programs, Help.org has developed a unique ranking process to help connect individuals with treatment providers that meet their needs.
The Help.org research team analyzed thousands of facilities across the country and then identified the most cost-effective and highest rated programs in larger cities like Charlotte. Each facility was evaluated based on rehabilitation services, treatment approaches, cost, special programs for unique demographics and ancillary services. The website also provides information about drug use and side effects as well as educational articles. For a detailed listing of the Best Rehab Facilities in Charlotte, North Carolina please visit https://www.help.org/drug-and-alcohol-rehab-centers-in-charlotte-nc/
2020 Best Rehab Facilities in Charlotte, North Carolina (in alphabetical order)
Absolute Advocacy
1977 J N Pease Place, Suite 104
Charlotte, NC 28262
704-274-2978
Addiction Recovery Care Association, Inc.
1931 Union Cross Road
Winston Salem, NC 27107
877-615-2722
Amara Wellness
5108 Reagan Drive, Suite 9
Charlotte, NC 28206
704-567-0790
Anuvia Prevention & Recovery Center
100 Billingsley Road
Charlotte, NC 28211
704-376-7447
Assessment Solutions of Charlotte, LLC
5200 Park Road, Suite 101
Charlotte, NC 28209
704-523-2353
Charlotte Rescue Mission
821 W. 1st Street
Charlotte, NC 28202
980-237-2147
Daymark Recovery Services, Inc.
284 Executive Park Drive, NE.
Concord, NC 28025
866-275-9552
Dilworth Center
2240 Park Road
Charlotte, NC 28203
704-372-6969
Family First Community Services
3705 Latrobe Drive, Suite 340
Charlotte, NC 28211
704-364-3989
Fellowship Hall
5140 Dunstan Road
Greensboro, NC 27405
800-659-3381
First Step Services LLC
211 E. Six Forks Road, Ste 117
Raleigh, NC 27609
919-833-8899
Freedom Detox
1089 X Ray Drive
Gastonia, NC 28054
704-981-0333
Freedom House Recovery Center
104 New Stateside Drive
Chapel Hill, NC 27516
919-942-2803
Genesis Project 1
5104 Reagan Drive
Charlotte, NC 28206
704-596-0505
Holly Hill Hospital
3019 Falstaff Road
Raleigh, NC 27610
919-250-7000
Hope Haven, Inc.
3815 N. Tryon Street
Charlotte, NC 28206
704-372-8809
HopeWay
1717 Sharon Road, W.
Charlotte, NC 28210
888-859-2106
Innervision Inc.
415 E. 4th Street
Charlotte, NC 28202
704-377-5042
Johnston Counseling Services
212 Bridge Street
Smithfield, NC 27577
919-938-0921
Legacy Freedom Treatment Centers
4944 Parkway Plaza #200
Charlotte, NC 28217
704-323-6676
McLeod Addictive Disease Center
515 Clanton Road
Charlotte, NC 28217
704-332-9001
October Road
119 Tunnel Road, Suite D
Asheville, NC 28805
828-538-2282
Pavillon
241 Pavillon Place
Mill Spring, NC 28756
828-694-2300
Phoenix Counseling Center
200-2 S. Post Road
Shelby, NC 28152
704-476-4106
QC Health Center
3552 Beatties Ford Road
Charlotte, NC 28216
704-394-8968
Queen City Treatment Center
6115 Hickory Grove Road
Charlotte, NC 28215
704-532-4262
Red Oak Recovery
631 Willow Creek Road
Leicester, NC 28748
866-457-7590
The Blanchard Institute
10348 Park Road
Charlotte, NC 28210
704-288-1097
The Taub Group
3535 Randolph Road, Suite 208
Charlotte, NC 28211
704-442-9805
Trosa
1820 James Street
Durham, NC, 27707
919-419-1059
Wilmington Treatment Center
2520 Troy Drive
Wilmington, NC 28401
910-758-2023
ABOUT HELP.ORG
Help.org is an online resource for individuals who struggle with addiction and their loved ones. The website provides the latest research through scientifically proven methods, community recovery resources as well as information about local financial assistance. Help.org's team of researchers, activists and writers work together with addiction counselors and other professionals to offer useful and accurate resources to help individuals seeking recovery. To learn more, visit https://www.help.org/.