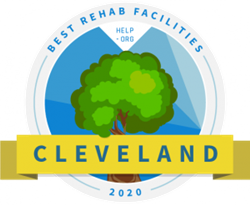 CLEVELAND (PRWEB) March 10, 2020
Help.org, a trusted online resource for individuals who struggle with addiction and their loved ones, has announced the Best Rehab Facilities in Cleveland, Ohio for 2020. The informational guide recognizes the top 28 rehab facilities based on cost, treatment options, location, accompanying services and more.
According to recent studies, drug overdose is the leading cause of death among people under age 50. In Cleveland, deaths related to opioid abuse increased significantly from 2011 to 2015. Substance abuse among adolescents is also escalating in Cleveland with 55 percent of high school students reported using alcohol, 38 percent reported using marijuana, 8 percent reported using prescription drugs without a valid prescription, and 2 percent reported using heroin. With the growing need for accessible and high-quality rehab programs, Help.org has developed a unique ranking process to help connect individuals with treatment providers that meet their needs.
The Help.org research team analyzed thousands of facilities across the country and then identified the most cost-effective and highest rated programs in larger cities like Cleveland. Each facility was evaluated based on rehabilitation services, treatment approaches, cost, special programs for unique demographics and ancillary services. The website also provides information about drug use and side effects as well as educational articles. For a detailed listing of the Best Rehab Facilities in Cleveland, Ohio please visit https://www.help.org/drug-and-alcohol-rehab-centers-cleveland-oh/
2020 Best Rehab Facilities in Cleveland, Ohio (in alphabetical order)
Arrowhead Behavioral Health
1725 Timber Line Road
Maumee, OH 43537
888-604-0245
Bluffs
2650 Lodge Road SW
Sherrodsville, OH 44675
888-481-7821
Catholic Charities Services Hispanic Program
7911 Detroit Avenue
Cleveland, OH 44102
216-334-2900
Cleveland Christian Home, Inc.
11401 Lorain Avenue
Cleveland, OH 44111
216-416-4277
Cleveland Treatment Center, Inc.
1127 Carnegie Avenue
Cleveland, OH 44115
216-861-4246
Cleveland Department of Health – CenterPoint Treatment Program
11100 Saint Clair Avenue
Cleveland, OH 44108
216-664-3891
Community Action Against Addiction
5209 Euclid Avenue
Cleveland, OH 44103
216-881-0765
Community Assessment and Treatment Centers
8411 Broadway Avenue
Cleveland, OH 44105
216-441-0200
FrontLine Service
1744 Payne Avenue
Cleveland OH 44114
216-623-6555
Hitchcock Center for Women, Inc.
1227 Ansel Road
Cleveland, OH 44108
216-421-0662
House of Hope, Inc.
825 Dennison Avenue
Columbus, OH 43215
614-291-4691
Key Decisions/Positive Choices Inc
3030 Euclid Avenue, Suite 312
Cleveland, OH 44115
216-391-0977
Lindner Center of HOPE
4075 Old Western Row Road
Mason, OH 45040
513-536-4673
New Day Recovery
960 Boardman-Canfield Road
Youngstown, OH 44512
330-886-4744
New Directions, Inc.
30800 Chagrin Boulevard
Cleveland, Ohio 44124
216-591-0324
Northern Ohio Recovery Association
1400 East 55th Avenue
Cleveland OH 44103
216-391-6672
Ohio Addiction Recovery Center
1151 S High Street
Columbus, OH 43206
800-481-8457
Orca House, Inc.
1905 E 89th Street
Cleveland, OH 44106
216-231-3772
Oriana House – Community Corrections and Treatment Center – Cleveland
15 Federick Avenue
Akron, OH 44310
330-996-7730
Recovery Resources
3950 Chester Avenue
Cleveland, OH 44114
216-431-4131
Rosary Hall
2351 E 22nd Street
Cleveland, OH 44115
216-861-6200
SMART Recovery
7304 Mentor Avenue Suite F
Mentor, OH 44060
440-951-5357
Stella Maris
1320 Washington Avenue
Cleveland, OH 44113
216-781-0550
The Ed Keating Center
2121 W 117th Street
Cleveland, OH 44111
216-472-1276
The Lantern Center for Recovery
12160 Triskett Road
Cleveland, OH 44111
216-941-5005
The Recovery Village Columbus
3964 Hamilton Square Boulevard
Groveport, OH 43125
614-362-1686
The Ridge Ohio
25 Whitney Drive, Suite 120
Milford, OH 45150
513-434-3206
Women's Recovery Center
6209 Storer Avenue
Cleveland, OH 44102
216-651-1450
ABOUT HELP.ORG
Help.org is an online resource for individuals who struggle with addiction and their loved ones. The website provides the latest research through scientifically proven methods, community recovery resources as well as information about local financial assistance. Help.org's team of researchers, activists and writers work together with addiction counselors and other professionals to offer useful and accurate resources to help individuals seeking recovery. To learn more, visit https://www.help.org/.