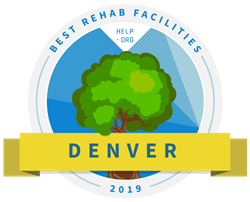 DENVER (PRWEB) December 02, 2019
Help.org, a trusted online resource for individuals who struggle with addiction and their loved ones, has announced the Best Rehab Facilities in Denver, Colorado for 2019. The informational guide recognizes the top 28 rehab facilities based on cost, treatment options, location, accompanying services and more.
According to recent studies, drug overdose is the leading cause of death among people under age 50. In Denver, deaths related to opioid abuse increased significantly from 2011 to 2015. Substance abuse among adolescents is also escalating in Denver with 55 percent of high school students reported using alcohol, 38 percent reported using marijuana, 8 percent reported using prescription drugs without a valid prescription, and 2 percent reported using heroin. With the growing need for accessible and high-quality rehab programs, Help.org has developed a unique ranking process to help connect individuals with treatment providers that meet their needs.
The Help.org research team analyzed thousands of facilities across the country and then identified the most cost-effective and highest rated programs in larger cities like Denver. Each facility was evaluated based on rehabilitation services, treatment approaches, cost, special programs for unique demographics and ancillary services. The website also provides information about drug use and side effects as well as educational articles. For a detailed listing of the Best Rehab Facilities in Denver, Colorado please visit https://www.help.org/best-drug-and-alcohol-rehab-centers-in-denver-co/.
2019 Best Rehab Facilities in Denver, Colorado (in alphabetical order)
Addiction Research and Training Services
3738 W. Princeton Circle
Denver, CO 80236
303-336-1600
Boulder Integrated Health
2429 Broadway
Boulder, CO 80304
720-739-6500
Broadway Counseling Services
1393 S. Inca Street
Denver, Colorado 80209
303-733-8784
CADREC
3315 Gilpin St.
Denver, CO 80205
303-295-2521
Center for Recovery
2121 S. Oneida Street, #412
Denver, CO
303-694-7492
Continuum Recovery of Colorado
9725 E. Hampden Avenue, Suite 308
Denver, CO 80231
303-339-0420
Denver Addictions
501 S. Cherry Street, Suite 650
Denver, CO 80246
720-295-2030
Denver Recovery Center
295 Interlocken Boulevard, #400
Broomfield, CO 80021
833-201-4922
Front Range Clinic
1490 Lafayette Street, Suite 407
Denver, CO, 80218
970-493-9193
Golden Peak Recovery
4411 E Kentucky Avenue
Glendale, CO 80246
855-617-0835
Harmony Foundation
600 Fish Hatchery Road
Estes Park, CO 80517
970-432-8075
Heritage Counseling Center
1602 S. Parker Road, Suite 214
Denver, CO 80231
720-748-0523
Innerbalance Health Center
1414 W. 28th Street
Loveland, CO 80538
800-900-2252
Magnolia Medical
1850 Race Street
Denver, CO 80206
303-502-5880
New Beginnings Recovery Center
191 E. Orchard Road, Suite A
Littleton, CO 80121
303-830-2064
Northstar Transitions
3004 Arapahoe Avenue
Boulder, CO 80303
303-558-6400
Northstar Transitions Denver
1127 Auraria Parkway, #201I
Denver, CO 80204
303-558-6400
Recovering Spirit
1490 N. Lafayette Street, Suite 208
Denver, CO 80218
720-810-5922
Serenity Education & Therapy
2525 S. Wadsworth Boulevard. Suite 106
Lakewood, CO 80227
303-984-0590
Spanish Clinic
4200 Morrison Road
Denver, CO 80219
303-934-3040
Sobriety House, Inc.
121 Acoma Street
Denver, CO 80223
720-381-4337
Step Denver
2029 Larimer Street
Denver, Colorado 80205
303-295-7837
Stout Street Foundation
7251 E. 49th Avenue
Commerce City, CO 80022
866-722-7040
The Raleigh House
6870 W 52nd Avenue, Suite 103
Arvada, CO 80002
720-307-6326
The Rose House
P.O. Box 270416
Louisville, CO 80027
720-352-1623
Treatment Centers XL
Conifer Building
10099 Ridgegate Parkway, Suite 330
Lone Tree, CO 80124
720-600-1043
Urban Peaks Rehab
1490 N. Lafayette Street, #104
Denver, CO 80218
303-955-5131
Valiant Living
7120 E. Orchard Road, Suite 260
Centennial, CO 80111
303-647-4932
ABOUT HELP.ORG
Help.org is an online resource for individuals who struggle with addiction and their loved ones. The website provides the latest research through scientifically proven methods, community recovery resources as well as information about local financial assistance. Help.org's team of researchers, activists and writers work together with addiction counselors and other professionals to offer useful and accurate resources to help individuals seeking recovery. To learn more, visit https://www.help.org/.