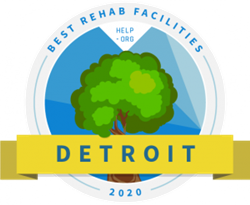 DETROIT (PRWEB) March 26, 2020
Help.org, a trusted online resource for individuals who struggle with addiction and their loved ones, has announced the Best Rehab Facilities in Detroit, Michigan for 2020. The informational guide recognizes the top 21 rehab facilities based on cost, treatment options, location, accompanying services and more.
According to recent studies, drug overdose is the leading cause of death among people under age 50. In Detroit, deaths related to opioid abuse increased significantly from 2011 to 2015. Substance abuse among adolescents is also escalating in Detroit with 55 percent of high school students reported using alcohol, 38 percent reported using marijuana, 8 percent reported using prescription drugs without a valid prescription, and 2 percent reported using heroin. With the growing need for accessible and high-quality rehab programs, Help.org has developed a unique ranking process to help connect individuals with treatment providers that meet their needs.
The Help.org research team analyzed thousands of facilities across the country and then identified the most cost-effective and highest rated programs in larger cities like Detroit. Each facility was evaluated based on rehabilitation services, treatment approaches, cost, special programs for unique demographics and ancillary services. The website also provides information about drug use and side effects as well as educational articles. For a detailed listing of the Best Rehab Facilities in Detroit, Michigan please visit https://www.help.org/drug-and-alcohol-rehab-centers-in-detroit-mi/
2020 Best Rehab Facilities in Detroit, Michigan (in alphabetical order)
American Indian Health and Family Services
4880 Lawndale Street
Detroit, MI 48210
313-846-3718
Bear River Health at Walloon Lake
2594 Springvale Road
Boyne Falls, MI 49713
231-535 – 2822
Dawn Farm
6633 Stony Creek Road
Ypsilanti, MI 48197
734-485-8725
Detroit Rescue Mission Ministries – Genesis House III
150 Stimson Street
Detroit, MI 48201
313-993-4700
Elmhurst Home
12010 Linwood
Detroit, MI 48206
313-867-1090
Emmanuel House Recovery Program
14750 Saint Marys Street
Detroit, MI 48227
313-397-2372
Get Back Up, Inc.
4216 McDougall
Detroit, MI 48207
313-397-1306
Harbor Oaks Hospital
35031 23 Mile Road
New Baltimore, MI 48047
586-684-4870
Jabez Recovery Management Services, Inc.
2755 Collingwood
Detroit, MI 48206
313-305-7040
Mariners Inn
445 Ledyard Street
Detroit, MI 48201
313-962-9446
Meridian Health Services
1255 North Oakland Boulevard
Waterford, MI 48327-1549
248-599-8999
Oakdale Recovery Center
43825 Michigan Avenue
Canton, MI 48188
734-397-3088
Personalized Nursing LIGHT House
2727 Second Avenue, Suite 133
Detroit, MI 48201
313-832-1300
Pine Rest Christian Mental Health Services Northwest Clinic
2118 Three Mile Road NW
Grand Rapids, MI 49544
616-222-3720
Positive Images, Inc. Residential 2
4875 Coplin Street
Detroit, MI 48215
313-822-1148
Quality Behavioral Health
6821 Medbury Street
Detroit, MI 48211
313-922-2222
Rapid Drug Detox Center
5130 Coolidge Highway, Suite 210
Royal Oak, MI 48073
888-558-8798
Rose Hill Center
5130 Rose Hill Boulevard
Holly, MI 48442
866-367-0220
Sacred Heart Rehabilitation Center, Inc.
P.O. Box 41038
Memphis, MI 48041
888-802-7472
Self-Help Addiction Rehabilitation, Inc.
1852 West Grand Boulevard
Detroit, MI 48208
313-894-8444
Sobriety House, Inc.
2081 West Grand Boulevard
Detroit, MI 48208
313-895-0500
ABOUT HELP.ORG
Help.org is an online resource for individuals who struggle with addiction and their loved ones. The website provides the latest research through scientifically proven methods, community recovery resources as well as information about local financial assistance. Help.org's team of researchers, activists and writers work together with addiction counselors and other professionals to offer useful and accurate resources to help individuals seeking recovery. To learn more, visit https://www.help.org/.