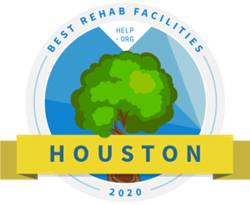 HOUSTON (PRWEB) August 04, 2020
Help.org, a trusted online resource for individuals who struggle with addiction and their loved ones, has announced the Best Rehab Facilities in Houston, Texas for 2020. The informational guide recognizes the top 24 rehab facilities based on cost, treatment options, location, accompanying services and more.
According to recent studies, drug overdose is the leading cause of death among people under age 50. In Houston, deaths related to opioid abuse increased significantly from 2011 to 2015. Substance abuse among adolescents is also escalating in Houston with 55 percent of high school students reported using alcohol, 38 percent reported using marijuana, 8 percent reported using prescription drugs without a valid prescription, and 2 percent reported using heroin. With the growing need for accessible and high-quality rehab programs, Help.org has developed a unique ranking process to help connect individuals with treatment providers that meet their needs.
The Help.org research team analyzed thousands of facilities across the country and then identified the most cost-effective and highest rated programs in larger cities like Houston. Each facility was evaluated based on rehabilitation services, treatment approaches, cost, special programs for unique demographics and ancillary services. The website also provides information about drug use and side effects as well as educational articles. For a detailed listing of the Best Rehab Facilities in Houston, Texas please visit https://www.help.org/drug-and-alcohol-rehab-centers-in-houston-tx/
2020 Best Rehab Facilities in Houston, Texas (in alphabetical order)
AAMA Casa Phoenix
6001 Gulf Freeway
Houston, Texas 77023
713-926-9491
Adult and Teen Challenge of Texas
802 Fresa Rd.
Pasadena, TX 77502
713-941-2720
All About Recovery
4141 North Freeway, Suite 310
Houston, TX 77022
713-697-6820
Career and Recovery Resources Inc Drug Abuse Treatment Program
2525 San Jacinto St.
Houston, TX 77002
713-754-7000
Cenikor Foundation
5629 Grapevine St.
Houston, TX 77085
888-236-4567
Cheyenne Center Houston
10525 Eastex Freeway
Houston, Texas 77093
713-691-4898
David and Ivory Ministries Lieutenant's House
4728 Gunter St.
Houston, TX 77020
713-675-3823
Family Services of Greater Houston Baytown
4625 Lillian St.
Houston, TX 77007
713-861-4849
Great Oaks Recovery Center
11210 FM 102
Egypt, TX 77436
877-768-4882
Houston Recovery Center
150 North Chenevert St., Suite 100
Houston, TX 77002
713-236-7800
Into Action Recovery Centers
17250 El Camino Real
Houston, TX 77058
844-694-3576
Lifestream Behavioral Health
123 Northpoint Dr., Suite 180
Houston, TX 77060
281-445-9700
Nova Recovery Center
1010 Waverly St.
Houston, TX 77008
512-520-0255
Open Door Mission Houston
5803 Harrisburg Blvd.
Houston, TX 77011
713- 921-7520
Passages Inc.
7722 Westview Dr.
Houston, TX 77055
713-957-4910
Recovery Unplugged
2617 Bissonnet St.
Houston, TX 77005
888-353-5196
Santa Maria Hostel Inc. Bonita House
2605 Parker Rd.
Houston, TX 77093
713-691-0900
Serenity House Detox Houston
9714 South Gessner Rd.
Houston, TX 77071
866-516-8356
Shamar Hope Haven
2913 Wheeler St.
Houston, TX 77004
713-942-8822
Sober Living Houston
2215 Bauer Dr.
Houston, TX 77080
713-858-9579
Taylor Recovery
5715 Lavender St., Buildings 5 and 6
Houston, TX 77026
713-557-8573
Texas Clinic Fulton
6311 Fulton St.
Houston, TX 77022
713-694-8100
The Montrose Center
401 Branard St.
Houston, TX 77006
713-529-0037
Turning Point Inc.
10175 Harwin Dr., Suite 101
Houston, TX 77036
713-773-3280
ABOUT HELP.ORG
Help.org is an online resource for individuals who struggle with addiction and their loved ones. The website provides the latest research through scientifically proven methods, community recovery resources as well as information about local financial assistance. Help.org's team of researchers, activists and writers work together with addiction counselors and other professionals to offer useful and accurate resources to help individuals seeking recovery. To learn more, visit https://www.help.org/.