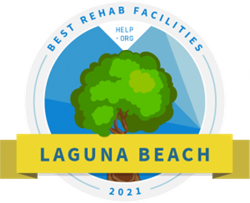 LAGUNA BEACH, Calif. (PRWEB) November 13, 2020
Help.org, a trusted online resource for individuals who struggle with addiction and their loved ones, has announced the Best Rehab Facilities in Laguna Beach, CA for 2021. The informational guide recognizes the top 22 rehab facilities based on cost, treatment options, location, accompanying services, and more.
According to recent studies, drug overdose is the leading cause of death among people under age 50. In Laguna Beach, deaths related to opioid abuse increased significantly from 2011 to 2015. Substance abuse among adolescents is also escalating in Laguna Beach with 55 percent of high school students reported using alcohol, 38 percent reported using marijuana, 8 percent reported using prescription drugs without a valid prescription, and 2 percent reported using heroin. With the growing need for accessible and high-quality rehab programs, Help.org has developed a unique ranking process to help connect individuals with treatment providers that meet their needs.
The Help.org research team analyzed thousands of facilities across the country and then identified the most cost-effective and highest-rated programs in larger cities like Laguna Beach. Each facility was evaluated based on rehabilitation services, treatment approaches, cost, special programs for unique demographics, and ancillary services. The website also provides information about drug use and side effects as well as educational articles. For a detailed listing of the Best Rehab Facilities in Laguna Beach, CA, please visit https://www.help.org/drug-and-alcohol-rehab-centers-in-laguna-beach-ca.
2021 Best Rehab Facilities in Laguna Beach, CA (in alphabetical order)
Adelante Recovery Center
49 Montecito Drive
Corona Del Mar, CA 92625
888-265-3477
AKUA Mind & Body
20271 Southwest Birch Street #200
Newport Beach, CA 92660
888-737-1712
Asana Recover – Alcohol/Drug Rehab & Detox
1730 Pomona Avenue, Suite 3
Costa Mesa, CA 92627
949-763-3440​
California Prime Recovery
17330 Newhope Street, Unit A
Fountain Valley, CA 92708
844-349-0077
Cornerstone of Southern California
1950 17th Street, #150
Santa Ana, CA 92705
714-547-5375
Dana Point Rehab Campus – Drug and Alcohol Rehab in Orange County
33861 Granada Drive
Dana Point, CA 92629
949-239-7557
Hillside Laguna
Hillside Lane
Laguna Beach, CA 92651
310-445-5743
Hotel California by the Sea
2811 Villa Way
Newport Beach, CA 92663
800-762-6717
Laguna Treatment
24552 Pacific Park Drive
Aliso Viejo, CA 92656
949-894-4966
Laguna View Detox
31305 Ceanothus Drive
Laguna Beach, CA 92651
888-448-1884
Miramar Recovery
339 Jasmine Street
Laguna Beach, CA 92651
866-646-8115
Monarch Shores
27123 Calle Arroyo, #2121
San Juan Capistrano, CA 92675
888-783-0622
Northbound Treatment Services
4343 Von Karman Avenue, Suite 100
Newport Beach, CA 92660
888-978-8649
Nsight Psychology & Addiction
4000 Birch Street, Suite 112
Newport Beach, CA 92660
949-629-3730
Oceanfront Recovery
312 Broadway Street, Suite 202
Laguna Beach CA, 92651
877-279-1777
Ocean Recovery
1115 West Balboa Boulevard
Newport Beach, CA 92663
949-942-8495
Pillars Recovery
326 Old Newport Boulevard
Newport Beach CA 92663
866-793-8302
Sober Spot Recovery
23276 South Pointe Drive, Suite 114
Laguna Hills, CA 92653
844-949-3660
Spencer Recovery Center
1316 South Coast Highway
Laguna Beach, CA 92651
800-334-0394
True Recovery
20351 Southwest Acacia Street, Second Floor
Newport Beach, CA 92660
(866) 381-3746
TruVida Recovery
23726 Birtcher Drive
Lake Forest, CA 92630
833-233-0091
Twin Town Mission Viejo
27281 Las Ramblas, Street 140 (at Puerta Real)
Mission Viejo, CA 92691
949-540-0170
ABOUT HELP.ORG
Help.org is an online resource for individuals who struggle with addiction and their loved ones. The website provides the latest research through scientifically proven methods, community recovery resources as well as information about local financial assistance. Help.org's team of researchers, activists, and writers work together with addiction counselors and other professionals to offer useful and accurate resources to help individuals seeking recovery. To learn more, visit https://www.help.org/.