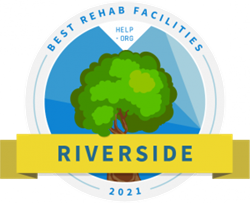 RIVERSIDE, Calif. (PRWEB) November 25, 2020
Help.org, a trusted online resource for individuals who struggle with addiction and their loved ones, has announced the Best Rehab Facilities in Riverside, CA for 2021. The informational guide recognizes the top 15 rehab facilities based on cost, treatment options, location, accompanying services, and more.
According to recent studies, drug overdose is the leading cause of death among people under age 50. In Riverside, deaths related to opioid abuse increased significantly from 2011 to 2015. Substance abuse among adolescents is also escalating in Riverside with 55 percent of high school students reported using alcohol, 38 percent reported using marijuana, 8 percent reported using prescription drugs without a valid prescription, and 2 percent reported using heroin. With the growing need for accessible and high-quality rehab programs, Help.org has developed a unique ranking process to help connect individuals with treatment providers that meet their needs.
The Help.org research team analyzed thousands of facilities across the country and then identified the most cost-effective and highest-rated programs in larger cities like Riverside. Each facility was evaluated based on rehabilitation services, treatment approaches, cost, special programs for unique demographics, and ancillary services. The website also provides information about drug use and side effects as well as educational articles. For a detailed listing of the Best Rehab Facilities in Riverside, CA please visit https://www.help.org/drug-and-alcohol-rehab-centers-in-riverside-ca
2021 Best Rehab Facilities in Riverside, CA (in alphabetical order)
10 Acre Ranch Alcohol and Drug Treatment Facility
4175 Brockton Avenue
Riverside CA, 92501
877-228-4679
Adelante Recovery Center
49 Montecito Drive
Corona Del Mar, CA 92625
888-403-9027
Daylight Recovery Addiction Treatment Center
9480 Pats Point Drive
Corona, CA 92883
855-279-0254
Everlast-Recovery Center
6560 Sandy Lane
Riverside, CA 92505
833-940-1411
Full Circle Recovery
1860 Lampton Lane
Norco, CA 92860
951-737-6199
Hathaway Recovery
1042 East Belmont Abbey Lane
Claremont, CA 91711
909-971-3333
Inland Valley Recovery Services
934 N. Mountain Avenue
Suite A&B, Upland CA 91768
909-949-4667
Loma Linda University Health
11234 Anderson Street
Loma Linda, CA 92354
909-473-4492
MFI Recovery Center
5870 Arlington Avenue
Riverside, CA 92504
866-218-4697
Promising Outlook
4136 10th Street
Riverside, CA 92501
951-783-2487
Ranch Creek Recovery
25650 Bass Point
Murrieta, CA 92562
877-959-1855
Riverside Drug Treatment and Rehab Centers
11801 Pierce Street
St 200, Riverside, CA, 92505
951-221-4018
Riverside Recovery Resources
3757 Elizabeth Street
Riverside, CA 92506
951-684-3744
Sunrise Recovery Ranch
6690 Limonite Frontage Road
Riverside, CA 92509
844-255-9437
Whiteside Manor Drug & Alcohol Rehab Center
2743 Orange Street
Riverside, CA 92501
800-300-7326
ABOUT HELP.ORG
Help.org is an online resource for individuals who struggle with addiction and their loved ones. The website provides the latest research through scientifically proven methods, community recovery resources as well as information about local financial assistance. Help.org's team of researchers, activists, and writers work together with addiction counselors and other professionals to offer useful and accurate resources to help individuals seeking recovery. To learn more, visit https://www.help.org/.